The Smart Way to Sculpt Your Body
According to the American Society for Aesthetic Plastic Surgery, liposuction is one of the most popular cosmetic procedures in the United States, with nearly 300,000 procedures performed each year. This procedure is an effective way for patients to eliminate stubborn areas of fat and achieve the sculpted, attractive physique they desire. Advances in technology have allowed cosmetic surgeon Kimberly A. Henry to provide patients with superior results through minimally invasive treatments. SmartLipo™ is a sophisticated technique offered at her San Francisco Bay Area offices that helps patients improve their figure without the drawbacks that are commonly associated with other cosmetic procedures. If you are unhappy with areas of fat on your body, contact Dr. Henry's plastic surgery practice to find out if you are a candidate for SmartLipo™.
What is SmartLipo™?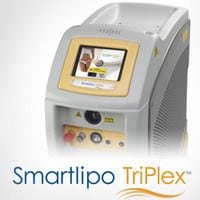 SmartLipo™, sometimes referred to as laser liposuction, is most simply explained as a less-invasive form of traditional liposuction. During the SmartLipo™ procedure, which can be performed in about one hour, Dr. Henry will insert a small, ultrathin tube known as a cannula beneath the skin of the treatment area. While traditional liposuction uses suction alone to remove the fat, the SmartLipo™ cannula is equipped with a laser that breaks up targeted areas of fat, which are later gently aspirated from the body. The laser simultaneously constricts collagen fibers, which has a tightening effect on the skin. The entire procedure can be performed under local anesthesia, reducing the risk of surgical complications and adverse side effects. In addition, preliminary results can be seen instantly and patients need only minimal post-operative downtime. SmartLipo™ can be used to target the following areas:
Abdomen
Waist
Thighs
Neck
Upper arms
Knees
Calves
Ankles
Are you a candidate for SmartLipo™?
SmartLipo™ is a safe and effective method for eliminating stubborn areas of fat on the body. It is important to note, however, that SmartLipo™ and other liposuction procedures are not alternatives to weight loss surgery. SmartLipo™ is intended to be used for relatively small areas of fat that patients have not been able to conquer despite healthy habits such as diet and exercise. The ideal candidate for SmartLipo™ is over the age of 18 and in general good health. Individuals who are planning significant weight loss or pregnancy may not be right for the procedure, as weight fluctuations can have an adverse effect on the results of liposuction. During a comprehensive examination at her San Francisco-area centers, Dr. Henry will evaluate your specific needs, and determine whether SmartLipo™ is the best treatment option for you.
The Benefits of SmartLipo™
SmartLipo™ is among the most advanced liposuction procedures available today. The use of lasers in cosmetic surgery enables Dr. Henry to achieve beautiful aesthetic results with minimal discomfort to the patient. One of the main benefits of the SmartLipo™ procedure is that there is very little effect on surrounding tissues. Because fat deposits are broken apart and melted away before being suctioned out, they are removed in a less invasive manner than traditional liposuction, resulting in less post-operative bruising. In addition, the SmartLipo™ procedure utilizes ultrathin instruments which require only small incisions. This increases patient comfort, accelerates the healing process, and makes it possible for the procedure to be performed under local anesthesia. Some other benefits of SmartLipo™ include:
Improved physique
Tissue is tightened simultaneously
Little to no downtime required
Can be performed in less than one hour
Nearly immediate results, with full results attained in a few weeks
Increased self-confidence and self-esteem
Less bleeding and bruising
No adverse affects of anesthesia
Long-lasting results
Contact Dr. Kimberly Henry Today
For many individuals, the only things standing between them and their ideal body are a few stubborn areas of fat. While diet and exercise go a long way toward eliminating problem areas, cosmetic procedures such as SmartLipo™ can put the finishing touch on their toned physique. To learn more about how SmartLipo™ can quickly and drastically improve your appearance, contact Dr. Henry's San Francisco Bay Area centers today. Dr. Henry proudly serves patients throughout Montecito, Sacramento, and surrounding Northern California communities.
Photo Gallery
View Before & After
Contact Us
Get in touch with Dr. Henry by filling out the form below with any questions or comments you have.