Breast Lift in San Francisco
A Breast Lift Can Restore a Youthful Silhouette
A curvy hourglass silhouette can help a woman feel feminine and attractive. When the top half of that form begins to lose shape, however, it can affect a woman's confidence and self-esteem. To address this issue, Dr. Kimberly Henry performs breast lift surgery for women whose breasts have begun to sag due to aging, pregnancy, weight loss, or other factors. Dr. Henry performs this rejuvenating treatment in state-of-the-art surgical suites located in her San Francisco, CA, offices. These surgical settings allow for greater patient privacy and a significantly reduced risk of infection, relative to a hospital setting.
If you would like to enhance the firmness and contours of your bust-line, a breast lift may be an appropriate cosmetic procedure to consider.
---
Who Might Consider a Breast Lift?
As we age, skin can lose elasticity, leaving breasts flatter and less full than they once were. Pregnancy and childbearing can have a similar effect, as can significant weight loss. Breasts that may once have been full and firm may now feel soft and look pendulous.
A breast lift, or mastopexy, can also correct the following:
Stretch marks and loose skin
Nipples that point downward
Enlarged areolas
Breasts that seem "deflated" after breastfeeding
If you have often wished you could fill out your clothing as well as you once did, breast lift surgery may be an appropriate cosmetic option for you. This treatment is often combined with breast augmentation to further enhance the shape of the breasts.
---
The Procedure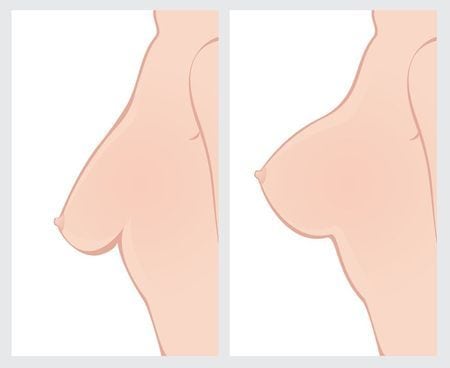 At the initial consultation, patients should share their concerns about the appearance of their breasts with Dr. Henry. Based on this appointment and your aesthetic goals, she will create a customized surgical plan to address your areas of concern.
The actual procedure consists of a series of surgical incisions that allow Dr. Henry to remove excess skin and tissue, which will leave the breasts looking fuller. The location of these incisions may vary depending on your individual aesthetic goals, but there should only be minimal scarring on the underside of the breast. Some patients may also have an incision site around the line of the areolae, if nipple repositioning is part of the surgical plan.
---
After Your Breast Lift
After the surgery, patients can expect mild-to-moderate discomfort at the surgical site for several days. We recommend that patients plan on keeping their activity level extremely low and avoid lying flat on their backs to minimize discomfort.
After 24 hours, the bandages can be removed and a special compression bra will be provided which should be worn during the next four weeks. This garment will resemble a sports bra, and should only be removed for bathing and laundering. Wearing this special bra will help keep the breasts from moving freely during the healing period in order to promote a successful recovery.
After about five to seven days, patients will usually have their sutures removed, but should continue to keep their activity level low to avoid any movements that may cause swelling or pain. Most patients can resume their daily routines after approximately two weeks, but should refrain from exercise for four to six weeks.
---
Schedule Your Consultation
If you would like to enhance the firmness and contours of your bust-line, a breast lift may be an appropriate cosmetic procedure to consider. Schedule a consultation with Dr. Henry, and she will create an individualized treatment plan to address your aesthetic concerns. Contact us at (415) 924-1313 or visit us online to make an appointment at our San Francisco, Davis, Greenbrae, or Petaluma offices.
Photo Gallery
View Before & After
Contact Us
Get in touch with Dr. Henry by filling out the form below with any questions or comments you have.