Smaller breasts are a common source of insecurity for women. For women who decide they want larger, fuller breasts, modern surgical breast enlargement with breast implants offers a solution. Serving Marin County, Sacramento, San Francisco, Greenbrae, Davis, Santa Rosa, and other Northern California communities, Dr. Kimberly Henry employs the most advanced, effective surgical techniques and high-quality materials to craft augmented breasts that look and feel amazingly natural.
---
The Advantage of Breast Enlargement
There are many advantages to undergoing a breast enlargement procedure. Many women with smaller breasts feel self-conscious, and breast implants can be a source of newfound self-esteem for these women. Having a bigger chest might also allow them to feel more confident in the way they look in certain dresses or tops. Augmented breasts create a fuller, shapelier body contour.
Dr. Henry is absolutely sensitive to the needs of each breast enlargement patient, and works closely with every woman she treats to decide what type of breast implants to use and what surgical technique will be most appropriate. Each case is unique, and thus each surgery must be approached with delicacy and precision for the best possible results.
The Breast Enlargement Procedure
The breast enlargement procedure involves placing breast implants to augment the chest. Serving Marin County, San Francisco, and Sacramento, Dr. Henry places implants under the chest muscle. The implants are inserted through incisions which are typically made either in the armpit, underneath the breast, or around the nipple. Breast implants can be made of either saline or silicone. Each of these options has distinct advantages and disadvantages, and Dr. Henry works with her patients to help them choose the breast implants that best fit their needs.

---
Submuscular Breast Implants
Breast implants placed under the chest muscles (submuscular implants) offer several significant advantages to implants placed over the muscles. Because the muscles cover the implants almost completely, concealing edges and ripples, some patients feel that implants placed behind the chest muscles look and feel more natural. Additionally, implants placed behind the muscles are less likely to interfere with breast cancer detection in the future. Finally, the muscles hold the breast implants in place, making it more difficult for them to move over time.
---
Incision Locations
Inframammary Incision
The inframammary fold is the crease at the base of the breast. An incision made here during breast enlargement gives Dr. Henry the most control when placing breast implants, and if another procedure is necessary in the future it can be performed through an incision in the same location. For women with smaller natural breasts or a less defined natural crease, this may not be the best option, as the incisions may be difficult to conceal.
Transaxillary Incision
An incision in the armpit (transaxillary incision) is one option for those who want to avoid scarring on the actual breast. This option still affords a great deal of control over implant placement, and the scars will be hidden unless the arms are raised. However, because they must be filled prior to surgery, silicone breast implants cannot be placed through a transaxillary incision, and if the patient requires another surgery in the future it may require a new incision in the inframammary fold.
Periareolar Incision
Another option is to create an incision around the nipple (periareolar incision). This location gives Dr. Henry a great deal of control over the breast enlargement procedure, and if the incision heals normally the nipple hides it very well. However, if something goes wrong during the healing process, the resulting scars could be very noticeable. It is also possible that the patient might lose feeling in the nipple after surgery, but this is rare.
---
Choosing the Right Breast Implants
Breast implants can be filled with saline or silicone. Though both produce very realistic breast enlargement results, some patients feel that silicone implants look and feel more natural. On the other hand, saline implants are easier to place and are more easily accessible if revisional surgery is needed in the future.
When choosing a breast implant, it is also important to consider the risks and potential side effects. Though it does not happen often, implant rupture can occur. Ruptured silicone breast implants are difficult to detect since the gel leaks slowly and may go unnoticed for quite some time. The health risks associated with silicone gel leaking into the body from a ruptured implant are unknown. A ruptured saline implant, on the other hand, would be noticed quickly since the implant would immediately deflate. In that event, the body would safely absorb the saline, which is basically a saltwater solution. You can discuss all of the options for breast augmentation during a consultation with Dr. Henry, including the new Ideal Implant®, and together you can determine what will be best for you.
---
Contact Dr. Henry in Marin County
If you are considering breast implants, speak with an experienced breast enlargement surgeon. Serving Marin County, Sacramento, San Francisco, Davis, Santa Rosa, Greenbrae, and surrounding communities, Dr. Kimberly Henry offers breast enlargement surgery with aesthetically appealing results. Contact Dr. Henry today to schedule a consultation.
Photo Gallery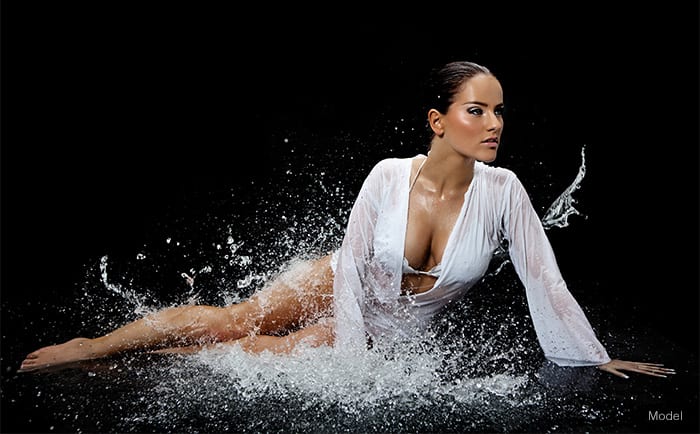 View Before & After
Contact Us
Get in touch with Dr. Henry by filling out the form below with any questions or comments you have.