Liposuction: A Conservative, Minimal Discomfort Option to Achieve a Defined and Youthful Figure
While many of us want a sleek and youthful figure, stubborn pockets of excess fat can prevent us from achieving our cosmetic goals. This effect can be especially frustrating if you are already committed to exercise and a healthy diet. Liposuction can break up pockets of fat virtually anywhere on your body. In this way, the procedure can sculpt a more appealing figure, and it can dramatically improve your self-confidence. At her San Francisco, CA, area offices, Kimberly Henry, MD, performs liposuction on an outpatient basis. She also uses general anesthesia to ensure your absolute comfort. At your initial consultation, she can explain the benefits of liposuction.
---
Are You a Candidate for Liposuction?
Liposuction may be appropriate if you struggle with excess fat in areas such as:
Abdomen
Buttocks
Thighs
Upper arms
Under your chin
It is important to note that liposuction is not a weight loss procedure. Therefore, to qualify, you should be at or near a healthy weight, and you should engage in an active lifestyle. Additionally, you should be at least 18 years old, have realistic expectations for treatment, and enjoy generally good health. An autoimmune disease, skin condition, or other chronic health problem may affect your ability to undergo liposuction.
Dr. Henry uses very precise and gentle techniques. Therefore, the treatment will cause little discomfort or tissue damage.
---
The Liposuction Procedure
Prior to beginning the procedure, Dr. Henry will administer general anesthesia. Because you will be asleep during the surgery, you should not experience any discomfort or anxiety. After you are asleep, Dr. Henry will make several incisions in the treatment area. These openings are usually so small that they do not require sutures and instead heal on their own. After the incisions have been made, Dr. Henry will insert a small tube called a cannula to break apart fat pockets and suction out the unwanted fat. Dr. Henry has experience performing liposuction on many areas of the body. She also uses very precise and gentle techniques. Therefore, the treatment causes little discomfort or tissue damage.
Financing
We want to make your liposuction treatment affordable. For this reason, we offer both CareCredit® and ALPHAEON® financing, and we can help you file all necessary paperwork.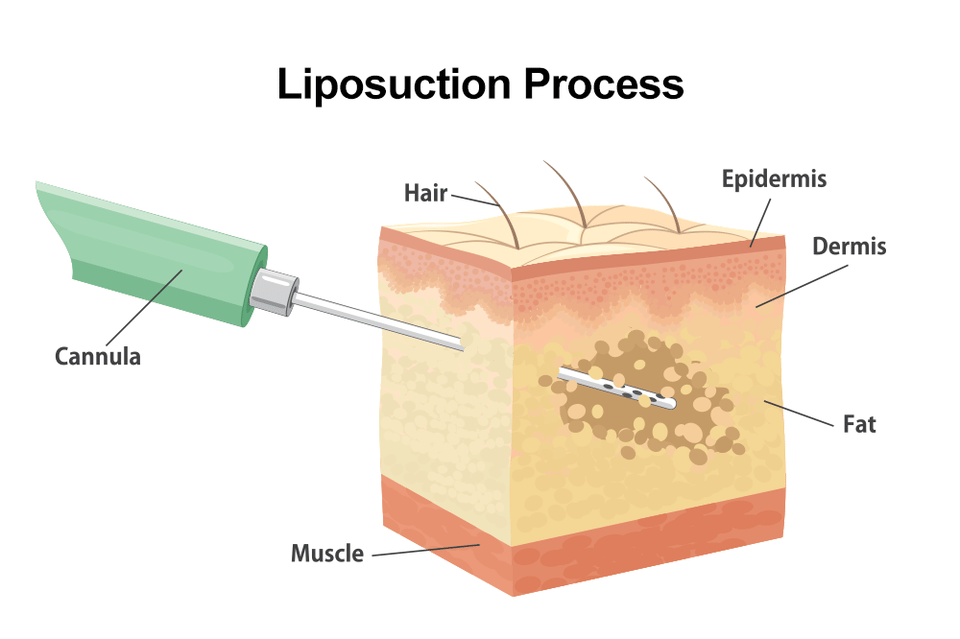 ---
What to Expect after Liposuction
Because liposuction is a conservative treatment, your recovery time will likely be short. Nonetheless, you should take certain steps to reduce discomfort and to help ensure the best possible treatment results. You should wear compression garments as directed for a few weeks, as they will help your skin conform to the new shape of your body. You should also rest for several weeks. Moderate exercise, such as walking, can help to stimulate healing. However, you should avoid strenuous activities and heavy lifting until Dr. Henry gives her approval. Usually, you will be able to return to work in a week or less.
Initially, you could experience some swelling and bruising. As you heal, you could notice the sometimes dramatic results of liposuction. Your figure could look much slimmer, and your skin could also be much smoother. You may even look as though you have lost a significant amount of weight, and you could appear several years younger. Of course, you can also enjoy a tremendous boost of self-confidence that could affect your demeanor, social life, and willingness to engage in certain activities.
---
Enhance Your Appearance
Contact us online to schedule a liposuction consultation. You can also call us at (707) 778-2313 to book an appointment in Petaluma, (530) 756-7663 to reach our Davis location, or (415) 924-1313 to talk to someone at our Greenbrae office.
Photo Gallery
View Before & After
Contact Us
Get in touch with Dr. Henry by filling out the form below with any questions or comments you have.