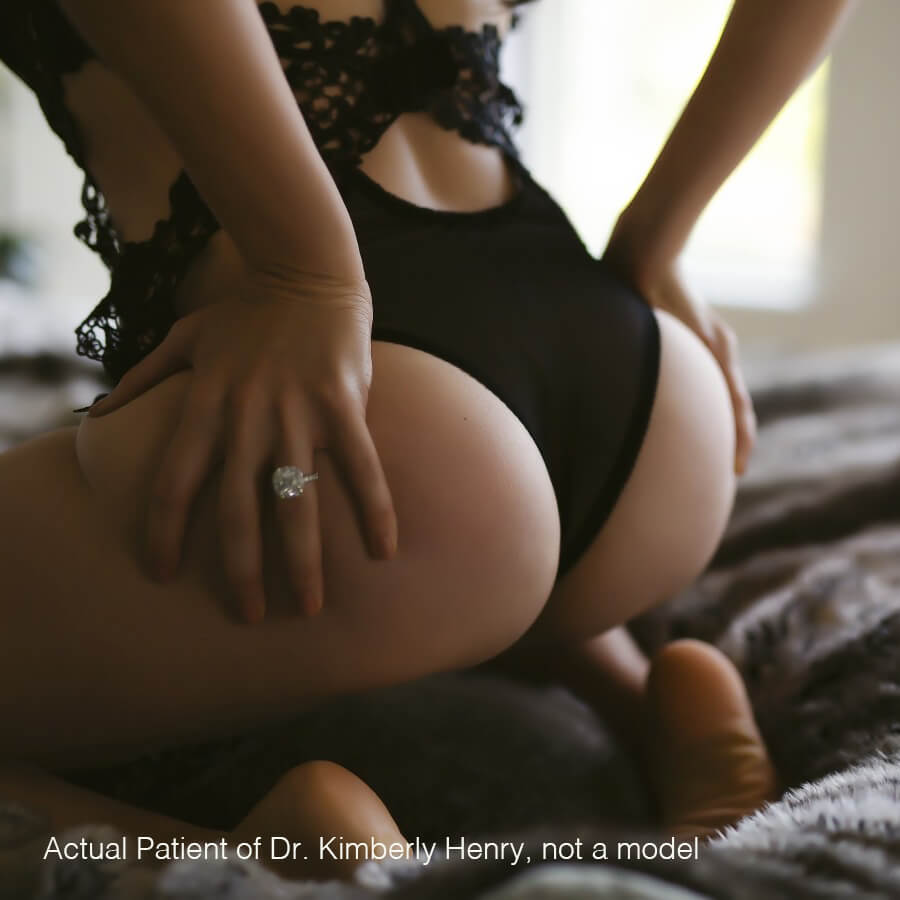 For many women, the ideal body shape includes large breasts, a slender waist, and round buttocks.
However, not all women are naturally blessed with a firm and shapely backside. At Kimberly Henry MD, we offer butt augmentation using butt implants or fat transfer (Brazilian Butt Lift) to give you the ideal butt you have always wanted, complete with attractive volume, shape, and curves.
Dr. Henry and her team of specialists will provide you with several options to achieve your aesthetic goals.
What Butt Augmentation Can Do for You
Butt Augmentation Options
Fat Transfer (Brazilian Butt Lift)

Brazilian Butt Lift (BBL) uses your natural body fat to augment the buttocks.
Liposuction is performed to extract excess fat from the hips, thighs, abdomen, and back.

Liposuction can also improve the overall shape of these areas on your body.

Once fat cells have been harvested, they will be cleansed and purified to remove any remaining blood and oils.

It can also eliminate weak or broken down fat cells to make sure that only healthy cells are grafted into your buttocks.

The fat cells are then carefully injected into your buttocks to produce the desired volume enhancement.

Butt Implants

Butt implants are made of silicone and come in a variety of shapes and sizes. Dr. Henry uses two types of butt implants:

Brazil Sientra® implants: Implants from Sientra® are either dome, round, teardrop, or in a sandwich loaf shape.
Las Vegas (AART) implants: Implants from AART come in a round or teardrop shape.

An incision will be made in the natural crease of your buttocks and implants between the size of 240 to 420 cc will be placed and positioned between the gluteal muscles.
Incisions are then closed and dressed with bandages.
A drain will be inserted to remove any excess fluid and will be removed one week after your surgery.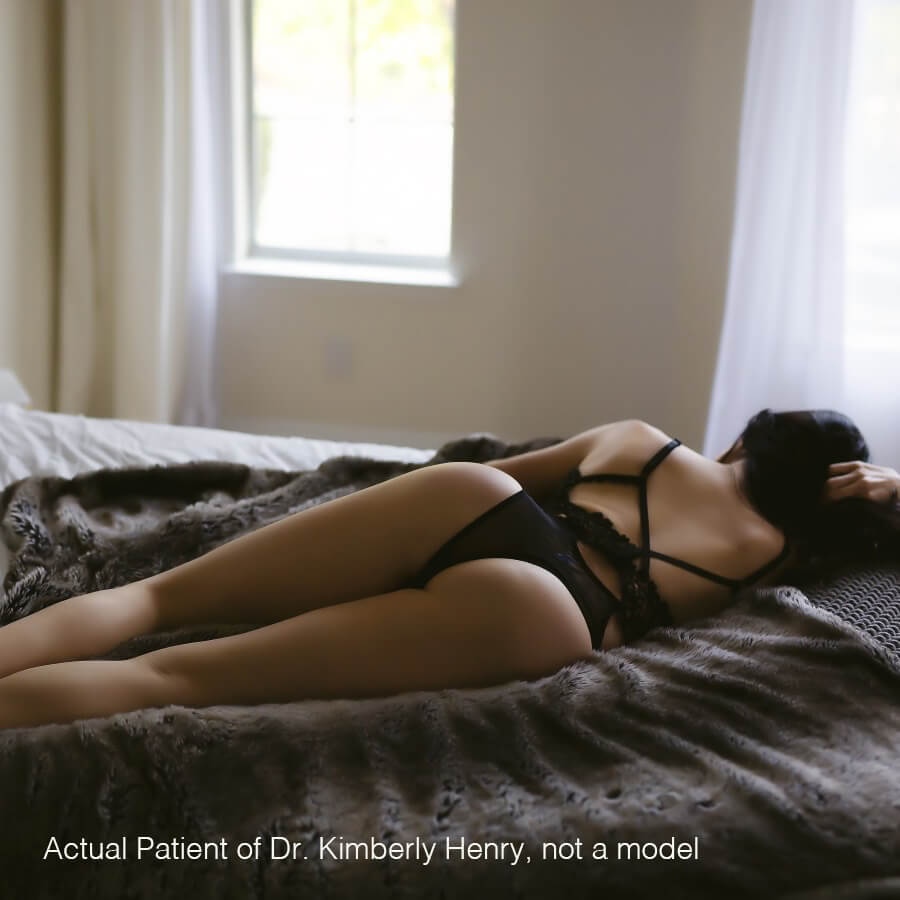 Recovery
Your recovery period will vary as each person heals differently based on their overall health and butt augmentation procedure. You will experience bruising, swelling, and redness following your surgery. Make sure to avoid putting pressure on the buttocks for at least six weeks. It is recommended that you rest on your stomach, drink plenty of water, and take your prescribed medication.
Results
Both butt augmentation techniques can enhance your butt in the long-term. You may lose an initial amount of volume after your BBL procedure, but most transferred fat is permanent. Butt implants provide long-lasting correction and can leave you with satisfying results.
Scars
Incisions are made in discreet locations during your butt augmentation procedure. Any subsequent scarring can easily be covered with clothing and is likely to fade over time.
Pain
Swelling and bruising may occur during your recovery and could cause some minor discomfort. Dr. Henry will prescribe pain medication to help control any associated pain.
Frequently Asked Questions
Am I a good candidate for a Brazilian Butt Lift?

Ideal candidates for the Brazilian Butt Lift procedure have excess fat in unwanted areas and desire more fullness in their buttocks. Patients must also be in good health.

Are butt implants safe?

Butt implants are safe and are created from silicone encased within a silicone shell.

How long do results last after a Brazilian Butt Lift?

Results from a Brazilian Butt Lift are long lasting. Once the fat has successfully grafted into the tissues, it is permanently incorporated into the buttocks.

What type of butt implants do I need for my procedure?

During your consultation, Dr. Henry will evaluate the size and shape of your buttocks to determine which implant will best suit your aesthetic needs.

Do I need to have a lot of excess fat to undergo a Brazilian Butt Lift?

Patients must have enough surplus fat available for harvesting to qualify for a Brazilian Butt Lift. If you are not certain whether you have enough excess fat, schedule a consultation with Dr. Henry, and she will advise you on whether the Brazilian Butt Lift is the right procedure for you.
Photo Gallery
View Before & After
Contact Us
Get in touch with Dr. Henry by filling out the form below with any questions or comments you have.

[""]