Posted in Cheek Augmentation, Cheek Implant, Facial Implant, Facial Plastic Surgery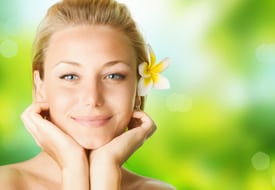 If you want to have looks that really stand out, you need to consider the contours and curves of your face just as much as your body. A nicely proportioned face can make you appear youthful, vibrant, and even statuesque. That's why so many people see out San Francisco plastic surgery at our practices through the Bay Area and near Sacramento. Through expert surgical enhancements, we can help you achieve a much more defined and remarkable appearance.
About Cheek Augmentation
One such facial feature that can make a big difference to your appearance is the cheekbones. Cheekbones that are well-defined and prominent can give you an appearance like you were chiseled out of marble, fashioned to look like part of the classical pantheon (both of the ancient world and the golden years of Hollywood).
In order to achieve this look, many people turn to cheek implants and augmentation. During cheek augmentation surgery, facial implants are placed into the cheek area to enhance and refine the cheekbones.
What are facial implants?
Facial implants are just what they sound like: they are synthetic materials that help add volume or enhance different facial features. These facial implants come in many different shapes and sizes to meet the needs of different patients. There are facial implants that can help enhance the lips, the cheeks, and the chin.
Good Candidates for Cheek Augmentation
The best candidates for cheek augmentation are patients who would like to enhance the overall prominence of their cheeks. These patients should be in good general health and have realistic expectations about what the surgery can achieve. During your consultation with San Francisco Bay Area cosmetic plastic surgeon Dr. Kimberly Henry, she will be able to determine if cheek augmentation is best for you.
The Cheek Augmentation Procedure
The procedure for cheek augmentation may vary from patient to patient. For instance, if you are also undergoing a facelift, the cheek implants may be placed using those incision. If you are just getting cheek implants, however, the incisions for placing the implants will be made inside the cheeks or around the lower eyelid area. Patients will be under anesthetic during the surgery to ensure they feel no discomfort.

Benefits of Cheek Augmentation Surgery
The benefits of cheek augmentation surgery are many. If you alter one facial feature, you can enhance the overall appearance of your face. All parts of your face are complementary and connected, meaning just one adjustment may enhance the overall symmetry and beauty of your overall visage.
Additional Concerns for Facial Rejuvenation
In addition to facelift surgery, it's not uncommon for cheek implants to be placed through the incisions for San Francisco rhinoplasty or an eyelift. These combination surgeries can be discussed in more detail during your visit to our practice.
Schedule a Consultation for Cheek Implants and Augmentation
If you are interested in cheek augmentation and cheek implants, contact San Francisco area cosmetic surgeon Dr. Kimberly Henry today. During your consultation at our practices in Davis, Petaluma, and Greenbrae, we will be able to go into more detail about all of your treatment options.