Posted in Butt Augmentation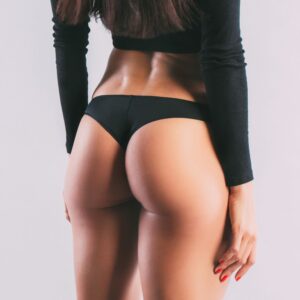 There are plenty of ways to look your very best. People in the greater San Francisco area know that they can come to our plastic surgery practice for an honest assessment of all of their surgical and non-surgical treatment options. We offer answers to all questions to promote confidence in a patient's choices.
Many patients have asked how Brazilian butt lift surgery works. Let's cover the basics of this right now and then consider who is an ideal candidate for the body sculpting surgery.
What Is a Brazilian Butt Lift?
A Brazilian butt lift is a type of fat transfer procedure. This means that it involves the removal of fat from one part of the body and the injection of that fat into another part of the body. By doing this, a patient's buttocks will appear rounder, firmer, and more supple.
Liposuction for Body Sculpting and Enhancement
Many people think of liposuction solely in terms of fat removal and fat reduction. In fact, liposuction is a great option for body sculpting needs. Fat is extracted and then subsequently purified through the use of centrifugal force. This fat is then placed into a different part of the body. In the vast majority of cases, the contouring is extremely effective. Roughly half of the fat injected may be reabsorbed by the body, though there will be no ill effects.
General Candidacy for a Brazilian Butt Lift
Good candidates for Brazilian butt lift surgery are people who would like to enhance the appearance and prominence of their buttocks without the need for artificial implants. These patients should have some excess body fat in parts of their body from which to draw. This often means taking fat from the flanks and lower abdominal area, which is one of the most common places where fat accumulates.
Ideal for Patient Looking for Fat Reduction and Sculpting
The Brazilian butt lift is an ideal surgery for people who would like to enhance the shape of their buttocks while also losing some body fat that does not respond to exercise or a healthy diet. In a sense, the Brazilian butt lift kills two birds with one stone.
Patients who do not have enough excess body fat will be poor candidates for the procedure. In these circumstances, an alternative to the Brazilian butt lift will be considered.
Realistic Expectations About Results
As with any kind of surgery, it's of the utmost importance that patients have realistic expectations about the Brazilian butt lift and what it entails. For once, patients should understand that there is the possibility of some fat absorption following the procedure.
Patients should also note that there are temporary side effects after the surgery that can be addressed by following all pre-op and post-op instructions carefully. Patients should also be familiar with the risks and benefits of the surgery.
Is a Brazilian Butt Lift Right for Me?
The best way to find out if the Brazilian butt lift is right for you is to meet with the team at our practice. We will provide you with ample information on the surgical process and what can be done to help you look your absolute best. If the Brazilian butt lift isn't the ideal option for your needs, we can recommend a number of alternatives that may be more suitable.
Speak with an Experienced Cosmetic Surgeon
To learn more about your many options when it comes to body contouring and sculpting, be sure to contact our cosmetic surgery center today. We look forward to working with you and helping you look your absolute best.