Posted in Butt Augmentation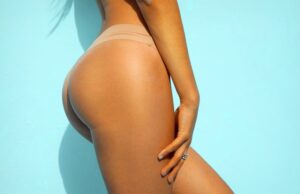 Our practice proudly serves the cosmetic skin care and plastic surgery needs of the San Francisco Bay Area. We help people look younger, more refreshed, and more invigorated by using the latest surgical techniques and technology.
The Brazilian butt lift surgery combines liposuction with fat transfer injections to enhance curves and improve overall body contour. We'd like to consider some basics regarding the recovery process of this procedure so interested parties know what they can expect.
How Much Time Should I Take Off Work?
In general, it's best for Brazilian butt lift patients to take one to two weeks off of work. Keep in mind that this can vary based on the occupation, particularly how much a person sits down or engages in strenuous physical activity. The exact time you will need off of work can be discussed in greater detail during your consultation.
What to Expect Immediately After Brazilian Butt Lift Surgery
Immediately after your Brazilian butt lift, it is not uncommon to experience grogginess, soreness, and general discomfort as the local anesthetic wears off. Patients are advised to return home and get ample rest.
Activities to Avoid After Brazilian Butt Lift
After your Brazilian butt lift, there are a number of activities you will want to avoid for a few days to a few weeks so that you do not negatively impact results. These are as follows:
Sitting down on your butt (avoid for three weeks)
Sleeping on your back (avoid for three weeks)
Strenuous physical activity and heavy lifting (avoid for four weeks)
Pools, hot tubs, and swimming (avoid for four weeks)
Additional restrictions on activity can be discussed I greater detail during the consultation process. We can offer recommendations on how to work around these restrictions.
How to Sleep After Surgery
Since patients will want to avoid sitting on their butt or sleeping on their back, it's generally most ideal for patients to sleep on their stomach. Sleeping on your side is also acceptable, though not as ideal as sleeping on your stomach. You really want to avoid damaging the fat grafts.
Pain and Soreness
Pain and soreness are to be expected after any sort of surgery. This will typically be most pronounced for a few days, with the soreness steadily decreasing as time goes by. Be sure to take recommended pain relievers as directed and as needed.
Bruising and Swelling
Both bruising and swelling are also common issues as people heal from surgery. Brazilian butt lift patients should notice the most pronounced bruising and swelling in the first two weeks after surgery. By the end of the first month or month and a half, major swelling and discoloration should abate. Keep in mind that residual swelling may last for a few months after the procedure has been performed.
Wear Compression Garments as Directed
Compression garments are common after various body contouring surgeries. They can help improve overall outcomes of surgery. Be sure to wear these garments as directed, and to change surgical dressing as advised by your surgeon.
Attend Follow-up Visits as Scheduled
In the weeks after surgery, a few follow-up visits will be scheduled in order to monitor your healing progress and the quality of your results. Be sure to attend these as scheduled. If any issues arise between visits, do not hesitate to contact the practice so your concerns may be addressed in a timely manner.
Will There Be Post-Surgical Scarring?
Scarring is common after any surgery, but thankfully there is limited scarring with the Brazilian butt lift. The cannula used for liposuction leaves very small marks that are hard to detect. These should be barely noticeable and fade with the coming weeks.
A Word on Fat Reabsorption
When fat transfer is performed, a certain amount of fat will be reabsorbed into the body. This has no negative effects, though it can impact the overall results of your Brazilian butt lift. The final results of the procedure should be apparent several months after the surgery was performed, and overall aesthetic enhancements should still be apparent.
Learn More About Brazilian Butt Lift Surgery
For more information about Brazilian butt lift surgery and how it can help you look your best, be sure to contact our cosmetic plastic surgery practice today. The team here will work with you to ensure optimal results are achieved.