Posted in Facial Plastic Surgery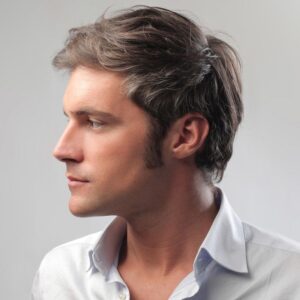 A chiseled, defined jaw line is the envy of many men and women. Squared jaws look masculine while a slender jaw line can enhance a woman's feminine appearance. When the jaw lacks definition, it can leave the face looking unbalanced, impacting self-esteem. Facial plastic surgery procedures, like jaw enlargement surgery, can help improve the confidence of those who would like to achieve definition and balance of their facial features. To find out if jaw enlargement surgery is right for you, schedule a consultation with our San Francisco, CA plastic surgeon, Dr. Kimberly Henry. In the meantime, learn more about jaw enlargement surgery in this overview from Dr. Henry.
What Is Jaw Enlargement Surgery?
Jaw enlargement, also called jaw augmentation, is a surgical procedure used to address the structure of the jaw and improve the appearance of the jaw line. Jaw enlargement surgery can help balance the surrounding facial features by filling out an undersized jaw. This procedure may even be used to add shape to an undefined jaw line, creating a strong, squared look.
What Happens During Jaw Enlargement Surgery?
Jaw enlargement surgery is performed under general anesthesia and as an outpatient procedure, allowing patients to recover in the comfort of their own homes. Jaw enlargement surgery is performed by making an incision in the back of the mouth, near the wisdom teeth. After the incision is made, an implant is placed through the incision. Once the implant is adjusted to the proper position, the incision is sutured closed.
Recovery after Jaw Enlargement
As with any surgery, jaw enlargement requires some time for recovery. Most patients feel back to normal within seven to ten days, however, swelling may not fully subside for several months. Pain and swelling should be expected in the first few days after surgery, but should subside as the body heals. During the first few days after surgery, patients will need to be on a restricted diet to allow the incisions within the mouth to heal properly and reduce the risk of infection. Additionally, patients can expect the jaw to be sore for several days. Patients should stick to a soft foods to reduce chewing.
Candidates for Jaw Enlargement
Both men and women who wish to improve the appearance of their jaw line may be excellent candidates for jaw enlargement surgery. Those who would like to achieve a squared, masculine jaw line or fuller, more contoured jaw structure may benefit from jaw enlargement surgery. Candidates should also be in good general health and have realistic goals and expectations in regard to plastic surgery.
Is Jaw Enlargement Right for You?
Jaw enlargement surgery can add structure to your jaw line and balance to the surrounding facial features. It may even be combined with other plastic surgery treatments to improve your overall appearance and enhance results. To find out if jaw enlargement is right for you, or to discuss other treatment options, we welcome you to schedule a consultation with Dr. Henry.