Posted in Chin Augmentation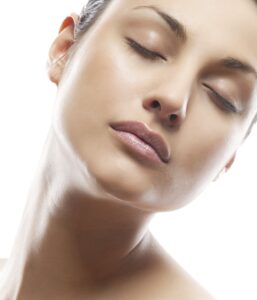 An undersized chin can make the jaw line look weak and the surrounding facial features out of place. If a small, recessed chin makes you feel insecure about your appearance, chin enlargement may be right for you. Facial plastic surgery, like chin enlargement, can improve the size, shape, and definition of the features, bringing balance and symmetry to the face. Chin enlargement candidates can enjoy the confidence of a defined chin with treatment from San Francisco, CA plastic surgeon Kimberly Henry. Contact Dr. Henry today to find out if chin enlargement is right for you.
What Is Chin Enlargement?
Chin enlargement, also called chin augmentation, is a surgical procedure used to add definition and prominence to the chin. The shape, size, and overall appearance of the chin can be transformed using chin implants. Chin augmentation is easily tailored to the needs of each patient, whether they desire a strong, masculine chin or a defined, feminine chin, and can even be combined with other facial plastic surgery treatments to enhance the overall appearance.
Chin Enlargement Procedure and Recovery
Chin enlargement surgery is performed as an outpatient procedure, using local or general anesthesia. During the procedure, a small incision is made either inside the lower lip, in front of the gum, or under the chin. An implant is then inserted through the incision and adjusted to sit in a naturally appropriate position, creating a beautifully defined profile. Alternatively, a patient's own bone may be used rather than an implant. This technique is called a sliding osteotomy and uses some of the existing chin bone to adjust the chin's profile. Once the implant or bone is in place, the incision is sutured closed and the chin is dressed.
Chin enlargement surgery will require recovery time. Patients will need to take at least a couple of days to a full week off from work immediately after surgery. During the initial recovery, patients generally experience some swelling, bruising, and pain around the chin. Pain and discomfort following surgery can be managed with pain medication. Using ice packs can also help relieve pain and reduce swelling. Swelling and pain should subside as the chin heals and may not fully resolve until four to six weeks after surgery. However, if swelling or pain becomes worse, this could be a sign of infection or other complication and should be brought to your surgeon's attention immediately.
Candidates for Chin Enlargement
Chin enlargement can help patients looking to strengthen the appearance of their chin achieve facial balance and an improved profile. In general, candidates for chin enlargement include those who have a weak or receding chin, which can make the jaw line undefined and the rest of the facial features look disproportionate and unbalanced. Candidates for chin enlargement should also be healthy enough to undergo surgery and have realistic expectations when undergoing chin enlargement, or any plastic surgery.
Find Out if You're a Candidate
Chin enlargement can help enhance your natural beauty, improving facial balance and proportions. To find out if you're a candidate for chin enlargement, we invite you to schedule a consultation with Dr. Henry.