Posted in Abdominoplasty, Body Contouring, Body Sculpting, Tummy Tuck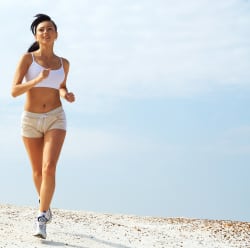 When it comes to surgery, every patient will have different needs. For this reason, every surgery that we offer will be tailored to the patient. Greenbrae, Petaluma, and Davis plastic surgeon Dr. Kimberly A. Henry knows that there's no such thing as a one-size fits all surgery. The aesthetics of each person's body and the practical method of addressing each person's needs will need to be considered on a case by case basis. This is true for facial procedures and breast procedures, and it's especially true for the tummy tuck.
What is a tummy tuck?
A tummy tuck is a body contouring surgery that is designed to remove excess skin the droops or sags in the abdominal area. Since loose skin will not always shrink back to form around a slimmer frame, this surgery is a great options for giving yourself a trimmer and fitter appearance. The tummy tuck is a particularly effective surgery for people who have lost a lot of weight or have had a child.
Types of Tummy Tuck
We mentioned above that each surgery is tailored to the needs of each patient, which is true. There are three basic kinds of Davis tummy tuck that can be performed: the traditional tummy tuck, the mini tummy tuck, and the extended tummy tuck.
Let's take a look at all three of these basic options so you have a good understanding of what to expect from this body contouring surgery.
Traditional Tummy Tuck Surgery
It makes sense to start with the traditional tummy tuck first. During a traditional tummy tuck, three incisions are made. The largest incision will be one that spans across the lower abdomen from hipbone to hipbone. Another incision will be made around the navel. The last incision will connect these two incisions, creating a sort of anchor shape. Through these incisions, excess fat is removed through the use of liposuction, excess skin is removed, and underling structures of the abdominal region are adjusted.
Mini Tummy Tuck Surgery
The mini tummy tuck is performed when only a little bit of excess skin and sagging remains after childbirth or weight loss. Since the surgery is designed to remove less tissue, the incisions are modified to reflect this. In some mini tummy tucks, an incision will only need to be made from hipbone to hipbone. In others, you may only require a small incision along the lower abdomen. Again, the surgery is tailored to your needs.
Extended Tummy Tuck Surgery
Whereas the mini tummy tuck is designed for minor body contouring needs, the extended tummy tuck is used for more substantial body contouring needs. This is a particularly important surgery to consider if you were morbidly obese at one time and then lost a lot of weight, necessitating post-bariatric body contouring. The primary difference in the extended tummy tuck involves the incision made along the lower abdominal area. This incision will instead span from the back of one hip bone, along the side, across the lower abdomen, and then back to the opposite hipbone.
Other Concerns for Body Contouring and Sculpting
Given that other parts of your body are affected by weight gain and weight loss, there are plenty of other options for body contouring to consider, including SmartLipo&™ laser liposuction, breast enhancement surgery, and facial plastic surgery. We can discuss all of these in more detail when you come in for a visit.
Learn More About Tummy Tuck Procedures
For more information about tummy tuck surgery and how it can benefit you, be sure to contact our San Francisco area cosmetic plastic surgery centers today.