Posted in Body Contouring, Breast Enhancement, Facial Plastic Surgery, Mommy Makeover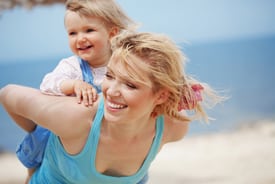 Having a baby will put your body through a number of major changes. This is to be expected, however, given the weight gain and weight loss you will experience from brining a child to term. In order to restore your appearance to what it was prior to pregnancy, it's important to consider various plastic surgery options out there to sculpt a renewed you. Greenbrae, Davis, and Petaluma plastic surgeon Dr. Kimberly A. Henry has the right solution for you and your needs.
About the Mommy Makeover: A New Start After Giving Birth
Stretch marks, loose skin, and sagging skin are all common after losing a lot of weight. In most cases, non-surgical treatments will not be able to treat these matters efficiently. It's for that reason that mommy makeover options are available. A mommy makeover is not just one surgery but refers instead to various surgical options which can give your appearance a new start.
At our San Francisco area plastic surgery practice, we'll perform a full consultation to ensure that you get the best possible treatment to meet your needs.
Mommy Makeover Body Contouring Surgery
When it comes to getting a mommy makeover, one of the most important considerations is the abdominal region and trunk area. It's for this reason that we'll consider tummy tuck and other body contouring surgeries as viable options for your mommy makeover. The tummy tuck can help tighten the lower abdominal area, and various lifts can target the extremities so there is less hanging skin and flabbiness about your frame. Liposuction can be used in targeted areas to remove problematic fat deposits as needed.
Mommy Makeover Breast Enhancement Surgery
The belly isn't the only area of the body that could use a little revision. The breasts undergo many changes with weight gain, lactation, and hormonal changes as well. Some women may best benefit from a breast lift surgery to help make drooping breasts perky again. Other may require a breast reduction so that their curves are more complimentary. Sometimes Petaluma breast augmentation may be the best bet to achieve greater pertness, shape, and size.
Mommy Makeover Facial Rejuvenation
The body and the breast aren't all, of course. When it comes to the mommy makeover, we can't forget that a facelift and other facial plastic surgery options may be just what you need to restore the glow and bloom to your appearance. Both surgical treatments and non-surgical treatments can be considered. It all really depends on your needs and how we can best meet and exceed them.
Designing a Mommy Makeover for You and Your Needs
As with any sort of surgical treatment, your needs will have to be addressed at an individually level. This means that there is no such thing as a one-size-fits-all mommy makeover. All kinds of post weight-loss surgery considerations will have to be made. Rest assured, though, that Dr. Henry will work closely with you to ensure that you undergo the best possible treatment for your situation.
Learn More About Your Treatment Options
For more information about mommy makeovers and how we can help you look refreshed and rejuvenated, contact our Greenbrae, Petaluma, and Davis plastic surgery center today. The entire team at our offices looks forward to meeting you in person.