Posted in Breast Augmentation, Breast Implants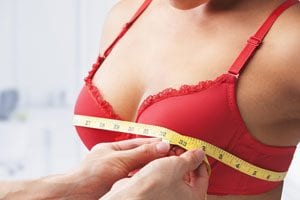 One of the most popular plastic surgery procedures offered today is breast augmentation surgery. By undergoing breast augmentation, a woman's curves and overall figure can be greatly enhanced. Even a small increase in breast size can lead to a major difference in their looks. When you meet with a plastic surgeon, you'll be able to learn a lot more with regard to your many options with breast implants.
An issue that some patients face after they undergo breast augmentation involves their implant bottoming out. This is a phenomenon that you may see in some before and after photos when it comes to revision surgeries, though you may not have heard that term applied in such a way before. We want to use this blog post to consider this matter and what can be done to address it.
What is bottoming out?
Bottoming out refers to a condition that affects the breast implants later in a woman's life. After a many years, the effects of gravity and skin laxity will sometimes cause the breast implants to droop or sag lower than where they were when they were originally placed. This can cause the nipples to appear higher on the breast or the overall breast shape to seem warped and unnatural.
Is the bottoming out of breast implants common?
This can be common for a number of patients depending on the size of the breast implants, the way the initial breast augmentation was performed, issues with healing, and the unique nature of the patient's skin laxity. If it does occur, there are a few ways that it can be addressed.
Avoiding Bottoming Out Through Surgical Techniques/Decisions
When the initial breast augmentation surgery is performed, there are a few things that a surgeon can consider to prevent major issues with bottoming out later in the patient's life.
For one, it's important to consider the size of the breast implants being placed. Large breast implants will be affected by gravity more than smaller breast implants, which makes the chances of bottoming out more likely. This is one of many reasons why bigger is not necessarily better.
In addition to breast implant size, the placement of the breast implants relative to the pectoral muscle is worth considering. Many women who have submuscular breast implants (i.e., breast implants placed beneath the pectoral muscle) are less likely to experience bottoming out.
Revision Breast Augmentation Surgery
If bottoming out does occur, do not worry. There are a number of revisions and corrective options that can be quite effective. For one, your surgeon may use internal sutures to correct the breast pocket in which the implant sits. This procedure is known as a capsulorrhaphy.
In other cases, the plastic surgeon may perform a breast lift surgery to remove excess skin and make the breasts appear perkier. This could also involve the replacement of the old breast implants.
Each revision for bottomed out breast implants will be tailored to the needs of the patient. During your visit, we will be sure to answer all of your questions in full detail.
Learn More About Breast Augmentation
If you would like to learn more about breast augmentation surgery and how our team can help you achieve the best possible results with regard to breast enhancement, we encourage you to contact our plastic surgery centers serving the San Francisco Bay Area today. Our entire team looks forward to meeting you in person and helping you achieve all of your aesthetic goals.