Posted in Breast Augmentation, Plastic Surgery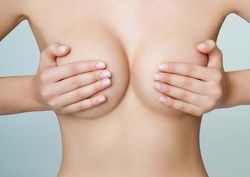 While breast implants can potentially last a lifetime, it's not uncommon for implants to require eventual replacement or revision. In fact, some patients will require replacement due to implant rupture within the first decade. The prospect of additional surgery may seem daunting, but follow-up procedures are both simple and safe, and will ensure that your body continues to look its best.
If you have or are planning on getting saline implants, it's a good idea to know what a rupture looks like. In the event you require a replacement, our San Francisco plastic surgery practice will help you every step of the way.
What Is Implant Rupture?
An implant rupture is when the outer shell of a breast implant tears or opens, resulting in the contents of the implant leaking out. In silicone implants, this leak is typically very gradual, often going unnoticed at first. Because saline solution is a liquid and not a gel, however, it tends to exit the implant more quickly and fully. Thus, once a saline implant ruptures, its effects tend to be far more recognizable.
Is Implant Rupture Dangerous?
There is little risk involved with saline implant rupture. Since saline is essentially sterile saltwater, it is quickly absorbed by the body, presenting no danger to one's health. However, once an implant ruptures, collagen fibers in the breast (called capsules) will begin to grow in the empty space. The longer this tissue is allowed to fill the breast, the more will have to be removed when replacing the implant. It is therefore a good idea to replace ruptured implants as soon as possible, for an easier surgery and recovery. Of course, most women will want to replace the implant for cosmetic reasons; in addition, a ruptured saline implant can have visible effects on the breast's appearance.
Signs of a Ruptured Saline Implant
Fortunately, most saline implant ruptures are immediately obvious. Even if patients are unfamiliar with ruptures, they will likely recognize that a breast has suddenly changed in appearance. Use the following warning signs to identify a rupture and subsequently seek treatment:
Deflation: As the saline solution exits a ruptured implant, it will cause the implant to lose its volume. As a result, the breast often appears to deflate. This is the most common and recognizable effect, and occurs soon after the rupture forms.
Change in shape: Even if a breast does not appear deflated, ruptured implants most often lead to a change in breast shape. The breast may appear smaller, lopsided, or similarly asymmetrical in relation to the other. Although this change is normally quick, it's possible to occur more gradually from very small leaks in the implant.
Tenderness: After an implant has ruptured, its shell may rub against the breast's interior, creating irritation or tenderness.
If you have reason to believe an implant has ruptured and you feel feverish and sick, this may be indication of a developing infection. In the event you believe you may an infection, call your doctor immediately for appropriate treatment.
Replace Your Ruptured Implants
If you have undergone breast augmentation and believe your implants may need replacement or revision, we can help. Through consultation with Dr. Henry, an expert assessment can be made regarding your implants, and the appropriate treatment can be given. Don't hesitate to contact us with additional questions or to schedule an appointment at your convenience.