Posted in Breast Augmentation, Breast Implants
6 Minute Read: 
Breast augmentation is one of the most popular procedures performed by Dr. Kimberly Henry in the greater San Francisco area. This plastic surgery is performed to enlarge and enhance the size and shape of the bustline using implants.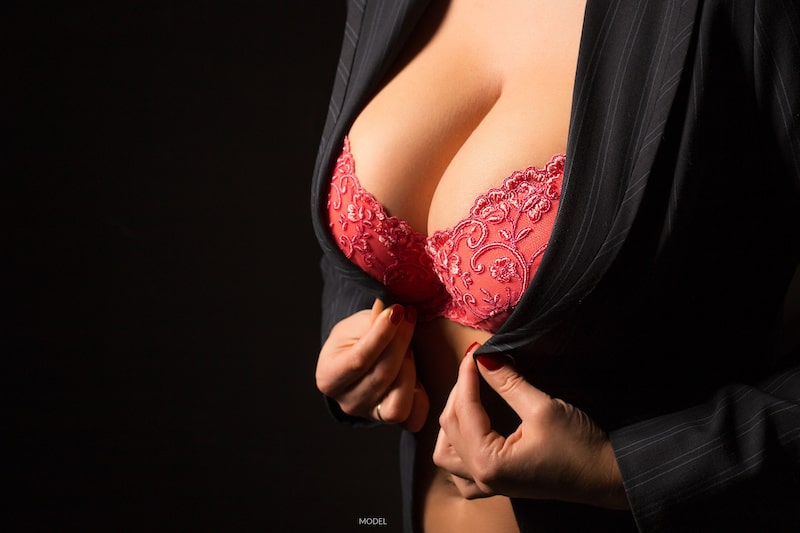 Women undergoing breast augmentation will have many choices to make when planning their surgery with their plastic surgeon. Some of the most critical choices include the implant size and implant type (filling material).
There are many options for the above. So, which is right for you?  
Well, let's look at a few options?
Implant Size (Large vs. Natural)
One of the primary reasons that women get breast implants is to increase the size of their breasts. Because of this, many women wind up getting large breast implants. Large breast implants can have a dramatic effect when it comes to increasing breast size. 
But, many patients who are considering breast enlargement wonder the same thing: "When it comes to breast implants, is bigger always better?"
Let's answer that question by considering the benefits and risks of getting large breast implants.
The Advantages of Getting Large Breast Implants
Larger breast implants make a significant impact on your overall appearance.
When a woman gets large breast implants, it brings out the overall silhouette of the bustline and enhances the other contours of the body, such as the hips, the waist, and the tush. If a patient is looking for an hourglass figure, large breast implants are a sure way to achieve that.
Patient satisfaction with large breast implants is generally high, though this depends on the aesthetic goals of the patient.
The Disadvantages of Getting Large Breast Implants
Bigger is not always better, however.
Large breast implants can look unnatural on some patients given their frame or given the overall size of the breast implants. In these cases, rather than bringing out the best in the patient's looks, the breast implants can overshadow the rest of a patient's frame.
Large breast implants are also more prone to rupture. When a leak occurs, it's important that it be addressed as soon as possible to address aesthetic issues and overall wellness.
Large breast implants are also more likely to require corrective/revision surgery later on. This is particularly true when it comes to bottoming out. Bottoming out refers to a case in which the breast implants sink beneath the created breast pocket, leading to an unnatural and unappealing appearance around the undersides of the breasts.
Implant Shape and Profile
There's more to breast augmentation surgery than implant size.
While the size of the implants is obviously important to consider, breast implant profile can also make a major difference. Breast implant profile refers to the amount of outward projection of the implants. Sometimes a high-profile breast implant can do more for a patient than just a large breast implant of moderate-profile.
The shape of the breast implants is also important to consider. Using a teardrop-shaped breast implant rather than a round breast implant can have dramatic effects on overall aesthetics that size alone cannot address.
It's also important to consider overall body shape and aesthetics when performing breast augmentation surgery. If a woman has a slimmer or slighter frame, large breast implants may not be right for her aesthetic goals. 
By considering how the breast implants will complement the figure rather than become the sole focus of a patient's appearance, better results are possible.
Implant Filling Material
Implants are available in a variety of filling materials. The most common are saline, traditional silicone, and gummy bear implants.
Saline implants are filled with a sterile saline (saltwater solution). Silicone implants consist of a thick and cohesive silicone gel. These two options have been around for decades. 
However, there is a newer option that is starting to lead the charge when it comes to breast implants. These are gummy bear implants.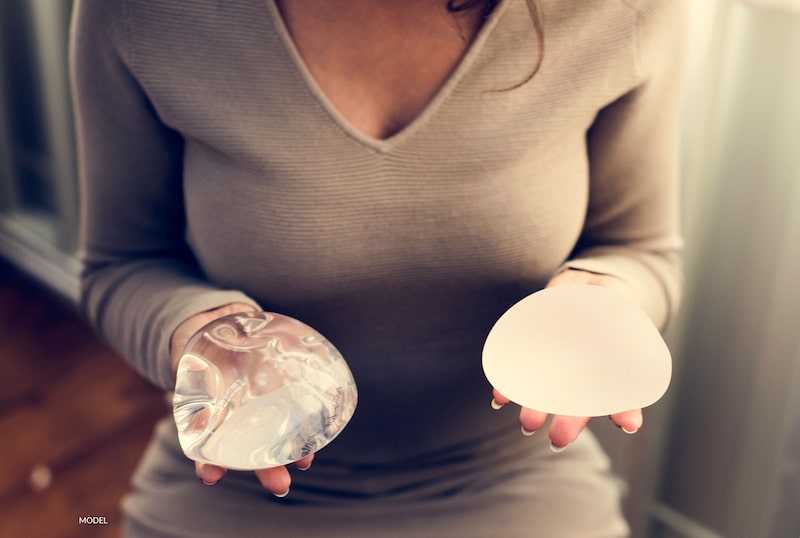 Understanding Gummy Bear Implants
Gummy bear implants are ultra-cohesive silicone gel implants. These have been used in breast augmentation in many other countries around the world before they were approved by the U.S. FDA, with remarkable success. 
That said, these implants offer both advantages and disadvantages compared to saline and traditional silicone implants. Dr. Henry believes that patients should be fully aware of both the positive and potentially negative aspects of any procedure before committing to undergo life-changing surgery.
So, are gummy bear breast implants right for you? 
The surest way to find out is to meet with Dr. Henry at her state-of-the-art office. Until then, here are some of the pros and cons of gummy bear implants.
The Advantages of Gummy Bear Implants
Gummy bear breast implants offer several advantages over their more traditional counterparts, including:
They retain their shape

: Unlike saline and standard silicone, ultra-cohesive silicone gel retains its shape over time. Breast implants filled with this gel have a consistency similar to gummy bears, which is why they have earned their nickname.

They do not leak

: If the implant shell breaks – as it probably will eventually – the ultra-cohesive silicone gel is the only filler that will not leak out.

They are less likely to result in capsular contracture

: Capsular contracture, in which a stiff layer of scar tissue forms around the implant, is a risk of any breast augmentation procedure. However, the data collected on gummy bear breast implants so far suggests that they are less likely to result in capsular contracture than alternative types of breast implants.
They are less likely to fold or ripple
The Disadvantages of Gummy Bear Implants
Although gummy bear breast implants have become increasingly popular since being approved by the FDA, many women continue to prefer traditional silicone gel implants for various reasons. Some of the cons associated with gummy bear breast implants include:
They are more expensive than standard silicone gel implants

: While we do whatever we can to offer competitive pricing on all of our procedures, gummy bear implants are more expensive than standard silicone gel implants, with saline-filled implants being the least expensive option.

They do not shift like natural breast tissue

: Because gummy bear implants retain their shape incredibly well, they do not shift or move as natural breast tissue would. While natural breast tissue will shift when a woman lies down, for example, gummy bear implants will have the same shape they have when a woman is standing up.

They require a longer incision

: They must be placed through a slightly longer incision than standard silicone gel implants, with saline-filled implants requiring the smallest incision.

They are available only in anatomical, "teardrop" shapes

: Unlike standard silicone gel implants, gummy bear implants are only available in anatomical shapes – that is, they project more toward the bottom of the implant than the top. In the rare instance that a gummy bear implant rotates, it can only be corrected through further surgery.
Making the Best Decision for You and Your Needs
During your consultation with Dr. Henry, all of your aesthetic goals can be taken into account and a treatment plan can be customized to meet your needs. We will make sure that all of your questions and concerns are addressed so that you can make a choice with which you are confident and comfortable.
If you would like to learn more about breast augmentation surgery and how it may be of great benefit to you and your needs, be sure to contact our cosmetic plastic surgery center today by calling (415) 924-1313 or filling out our online contact form. By speaking with Dr. Henry, you will be able to get all the info that you need to make smart choices about your surgical goals.