Posted in Breast Augmentation, Breast Enhancement, Breast Implants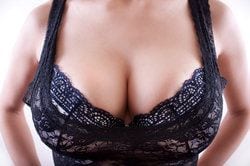 Dr. Kimberly A. Henry has helped countless patients in the greater San Francisco area with their diverse plastic surgery needs. One of the most common procedures that she performs is breast augmentation surgery, which enhances the size and shape of the bustline.
Many patients who are considering breast enlargement wonder the same thing: "When it comes to breast implants, is bigger always better?"
Let's answer that question right now by considering the benefits and risks of getting large breast implants.
Why Patients Consider Getting Large Breast Implants
One of the primary reasons that women get breast implants is to increase the size of their breasts. Because of this, many woman wind up getting large breast implants. Large breast implants can have a dramatic effect when it comes to increasing breast size.
The Advantages of Getting Large Breast Implants
Larger breast implants do make an impact on your overall appearance.
When a woman gets large breast implants, it brings out the overall silhouette of the bustline; the large breast implants can also enhance the other contours of the body in the process, such as the hips, the waist, and the tush. If a patient is looking for an hourglass figure, large breast implants are a sure way to achieve that.
Patient satisfaction with large breast implants is generally high, though this depends on the aesthetic goals of the patient.
The Disadvantages of Getting Large Breast Implants
Bigger is not always better, however.
Large breast implants can look unnatural on some patients given their frame or given the overall size of the breast implants. In these cases, rather than bringing out the best in the patient's looks, the breast implants can overshadow the rest of a patient's frame.
Large breast implants are also more prone to rupture. When a leak occurs, it's important that it be addressed as soon as possible to address aesthetic issues and overall wellness.
Large breast implants are also more likely to require corrective/revision surgery later on. This is particularly true when it comes to bottoming out later in life. Bottoming out refers to a case in which the breast implants sink beneath the created breast pocket, leading to an unnatural and unappealing appearance around the undersides of the breasts.
Other Factors to Consider Not Related to Breast Implant Size
There's more to breast augmentation surgery than implant size.
While the size of the implants is obviously important to consider, breast implant profile can also make a major difference. Breast implant profile refers to the amount of outward projection of the implants. Sometimes a high-profile breast implant can do more for a patient than just a large breast implant of moderate-profile.
The shape of the breast implants is also important to consider. Using a teardrop-shaped breast implant rather than a round breast implant can have dramatic effects on overall aesthetics that size alone cannot address.
It's also important to consider overall body shape and aesthetics when performing breast augmentation surgery. If a woman has a slimmer or slighter frame, large breast implants may not be right for her aesthetic goals. By considering how the breast implants will complement the figure rather than become the sole focus a patient's appearance, better results are possible.
Making the Best Decision for You and Your Needs
During your consultation with Dr. Henry, all of your aesthetic goals can be taken into account and a treatment plan can be customized to meet your needs. We will make sure that all of you questions and concerns are addressed so that you can make a choice with which you are confident and comfortable.
Learn More About Breast Augmentation Surgery
If you would like to learn more about breast augmentation surgery and how it may be of great benefit to you and your needs, be sure to contact our cosmetic plastic surgery center today. By speaking with Dr. Henry, you will be able to get all the info that you need to make smart choices about your surgical goals.