Posted in Eyelid Surgery (Blepharoplasty), Facelift, Plastic Surgery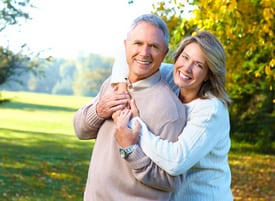 The physical changes that naturally occur during the aging process can be quite difficult to accept. Wrinkles, loss of facial volume, stubborn areas of fat, and loose and hanging skin are just some of the many issues facing our middle-aged adult and senior San Francisco plastic surgery patients. Through anti-aging plastic surgery treatments, you can achieve the youthful, energetic, and revitalized appearance you desire. Three of the most popular and effective plastic surgery procedures for middle-aged adults and seniors are liposuction, breast lift, and facial rejuvenation.
Liposuction
Both men and women can suffer from stubborn isolated areas of fat. These fatty areas may become smaller with diet and exercise, but never fully disappear. This can be quite frustrating, especially for our patients who have dedicated so much time and energy to maintaining their physical fitness. During your forties, fifties, sixties, and up, it becomes harder and harder to maintain a youthful contour. It is common to start gaining weight, even with diet and exercise. Areas of the body that can be treated with liposuction include the arms, face, back, inner knees, thighs, hips, neck, flanks, and abdomen. To fully enhance your contours, liposuction may be combined with other treatments. Through liposuction, we are able to remove excess fat deposits to achieve a slimmed and more toned body contour.
Breast Lift
Obviously, this procedure is for our female patients. Over time, the breasts can lose their youthful perkiness. As the body ages, the breasts may start to sag. After a while this sagging can be quite significant. Age, weight gain and weight loss, pregnancy, and breastfeeding can cause the breast tissue to lose firmness. This can be quite distressing for our middle-aged and senior patients. For our female San Francisco anti-aging plastic surgery patients who are suffering from sagging breasts, lost volume in the breasts, areolas that point down, enlarged areolas, a breast that hangs lower than the other, or stretched skin of the breasts, breast lift surgery may be an ideal treatment. Breast lift surgery can restore a youthful, perky appearance to the feminine figure. Breast lift surgery addresses sagging through the removal of excess skin and fatty tissue so that the breasts are lifted to a more youthful position on the chest. During the breast lift surgery, the nipples can also be repositioned if necessary.
Facial Rejuvenation
Facial rejuvenation is an excellent treatment option for both men and women. Anti-aging plastic surgery treatments that rejuvenate the face can remove years' worth of facial aging. One of the hardest parts of aging to accept is the effects of facial aging. Fine lines, wrinkles, facial creases, and the loss of volume to areas of the face can be improved through facial rejuvenation. There are many treatment options for facial rejuvenation. One such treatment is facelift surgery. With facelift surgery, you can achieve natural-looking and long-lasting results. Facelift surgery may be combined with other treatments such as eyelid surgery to fully rejuvenate the facial appearance. For our patients in San Francisco, eyelid surgery can provide a more rested, youthful appearance to the eyes by treating saggy and droopy areas of the eyelids. Dermal fillers are a great alternative for patients not yet ready for surgical treatments, but who still desire a more youthful and revitalized appearance.
Contact Dr. Kimberly Henry Today
There are many treatments available to our San Francisco patients desiring a more youthful and rejuvenated appearance. To learn more about popular plastic surgery procedures for middle-aged adults and seniors, please contact Dr. Kimberly Henry today.