Posted in Liposuction, Plastic Surgery, Rhinoplasty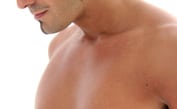 Today, more than ever before, men are turning to plastic surgery to enhance and revitalize their contours. Men from their twenties and even into their senior years wish to maintain and improve upon their masculine physiques. With the assistance of San Francisco plastic surgeon Kimberly Henry, you can look as good as you feel. Whether you desire to correct aesthetic flaws that result naturally from aging or to enhance your body's contours, we have a treatment that is best suited to your individual needs and goals. Some of these options are liposuction, gynecomastia treatment, and facial rejuvenation. Many of the treatments available to our San Francisco male plastic surgery patients may be combined to fully revitalize and enhance the male appearance. If you are in good health, have a healthy body weight, and are dissatisfied with your physical appearance in some way, you are a good candidate for plastic surgery.
Liposuction
The natural aging process, weight gain, and other factors can cause fat to accumulate in areas of the male body. A healthy diet and regular exercise are essential to living a long life, but cannot always provide the trim, broad-shouldered, and fit physique most men desire. Common problem areas in men include the abdomen, the back, the pectoral region, and the flanks. Unfortunately, some areas of fat cannot be removed through exercise alone. If you have tried diet and exercise and still suffer from isolated areas of fat, you may benefit from liposuction. Through liposuction, we can enhance the body's contours to provide a more toned and fit appearance. Because of how the masculine form carries fat, liposuction is especially effective in men. Liposuction may be combined with other treatments, including surgical body contouring and gynecomastia treatment.
Gynecomastia Treatment
A common problem among men is enlarged breasts. This can be a result of weight gain, genetics, hormonal changes, and certain diseases, as well as a side-effect of some medications. Enlarged breasts can be a source of embarrassment for men. The majority of gynecomastia patients suffer in silence. Many patients feel insecure when taking their shirts off, which can have an impact on intimate relationships. Even the simple joy of going swimming without a shirt on is taken from those who suffer from gynecomastia. The signs of gynecomastia are excessive localized fat and the excessive development of glandular tissue in one or both breasts. You must be in good health and at a healthy weight with stabilized breast development to be a good candidate for gynecomastia treatment. If gynecomastia is primarily the result of fatty tissue, liposuction may be the only treatment required. The surgical techniques used in your gynecomastia treatment are determined by your unique contours. To ensure long-lasting results, it is important that you maintain a healthy body weight.
Facial Rejuvenation
Facial rejuvenation treatments, such as BOTOX® Cosmetic, dermal fillers, and rhinoplasty, are excellent options for our San Francisco male plastic surgery patients desiring a revitalized appearance. Deep frown lines found between the eyebrows can be diminished through the administration of BOTOX® Cosmetic. With the dramatic yet natural-looking results BOTOX® Cosmetic provides, it is not surprising to learn it is one of the most popular facial rejuvenation treatments used by men today. Dermal fillers are another popular treatment used in facial rejuvenation. The purpose of dermal fillers is to minimize the effects of facial aging by reducing the appearance of fine lines, deep wrinkles, and facial creases. Dermal fillers may also be used to restore volume to areas of the face. Patients who are dissatisfied with the shape, size, or other elements of their noses may benefit from rhinoplasty. Rhinoplasty can be performed to make the nose smaller or larger, remove bumps, change the shape of the tip or the bridge, and alter the angle between the nose and the upper lip. Through rhinoplasty, San Francisco  male plastic surgery patients can achieve a balance to their facial features that no other treatment can provide.
Schedule a Consultation Today
To learn more about male plastic surgery treatments, please contact Dr. Kimberly Henry today.