Posted in Body Contouring, Breast Enhancement, Facial Plastic Surgery, Skin Care Products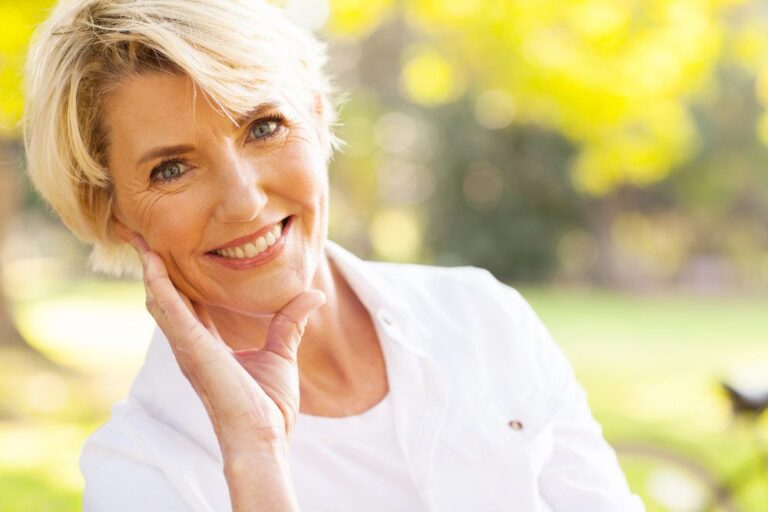 Dr. Kimberly Henry is a leader when it comes to plastic surgery and cosmetic skin care in the greater San Francisco area. She offers advanced facial plastic surgery for wrinkle reduction and anti-aging needs as well as the other options for aesthetic enhancement.
There are no age limits when it comes to improving your appearance, which is why she is so pleased to offer plastic surgery to patients in their 60s.
Candidacy and Good General Health Are Keys at This Age
As patients reach their early 60s, issues with general wellness become especially important to consider. If you are in good health and do not experience any kinds of health conditions that would make cosmetic surgery procedures a potential health hazard, then you ought to be a good candidate for various rejuvenation procedures. This will be determined during the consultation process.
Facial Plastic Surgery Procedures
The most common facial rejuvenation procedures for patients in their 60s are as follows:
Traditional Facelift – A traditional facelift is great for lines, wrinkles, and sagging in the mid-face and cheek area.

Brow Lift – When you have major furrows and lines on the forehead, undergoing a brow lift is a great option for tightening skin and smoothing those lines away.

Lower Facelift – Jowls tend to become more pronounced with advanced age, which is why the lower facelift is such a great option to consider.

Neck Lift – When you are much older, it's not uncommon for the skin of the neck to become loose and begin to sag. The neck lift eliminates this loose neck skin, making your neckline and face look much younger.

Cosmetic Eyelid Surgery – Drooping of the upper eyelids and the lower eyelids are both common issues related to the aging process. That's why cosmetic eyelid surgery is such a great option to consider for many patients.
Breast Enhancement Options
The most common breast enhancement procedures for patients in their 60s are as follows:
Breast Lift – Breast lift surgery helps reduce the sagging and drooping of breasts, which is a common issue associated with age.

Combined Breast Lift and Augmentation – In some cases, the use of breast implants as well as lifting methods can improve the overall appearance of a woman's bustline.

Breast Reconstruction – If you have survived a battle with breast cancer, a breast reconstruction surgery is ideal for helping recreate the breast mound and the nipple.
Body Contouring Procedures
The most common body contouring procedures for patients in their 60s are as follows:
Tummy Tuck (Abdominoplasty) – The tummy tuck is an ideal surgery for people who have lost a considerable amount of weight and have loose abdominal skin and stretch marks as a result.

Arm Lift – When the shoulder and tricep area droop or appear flabby, an arm lift is a great option for helping reduce this loose skin and allowing you to look much trimmer.

Thigh Lift – With advanced age, sagging or loose skin of the thigh area can occur, which is why a thigh lift is so important to consider. This allows surgeons to reduce loose skin in the upper, medial, lower, and inner thigh areas.
Non-Surgical Aesthetic Enhancements
It's not always necessary to undergo major surgery. Sometimes simply getting a facial, laser skin resurfacing, or spider vein removal is just as effective at aesthetic enhancement. We can go over plenty of options that will help make your skin glow and appear more youthful.
Speak to Dr. Kimberly Henry About Your Aesthetic Enhancement Options
For more information about advanced aesthetic enhancement in your later years and how you can look your absolute best, be sure to contact our plastic surgery and cosmetic skin care practice today. The Dr. Henry and the entire team here look forward to your visit and helping you look your absolute best.