Posted in Brow Lift, Facial Plastic Surgery, Forehead Lift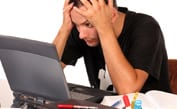 When it comes to looking your best and your youngest, it's important that you take good care of yourself. You need to eat right, exercise, and be sure to avoid excessive sun exposure since that will do you more harm than good. There are some things that you may not be able to take care of your own, however. That's where a San Francisco plastic surgery center comes into play. Sometimes you do need the help of a plastic surgeon, and that's why we're here for you.
About Brow Lift Surgery
If you have deep lines and furrows on your forehead, the best way to take care of them is brow lift surgery. This is a great facial cosmetic surgery option that specifically addresses aesthetic issues with the forehead and the upper portion of the face.
How Brow Lift Surgery is Performed
During a brow lift, the same principles of a San Francisco facelift essentially apply. Incisions will be made along the periphery of the brow area, usually in the hairline so any scarring is concealed from view. Through these incisions, excess tissue is removed and underlying structures can be adjusted. The remaining skin is then pulled taut to reduce the appearance of those deep worry lines. That's all there is to it.
Benefits of Brow Lift Surgery
One of the best benefits of brow lift surgery is that it can make you look years younger. Those lines on the forehead can age you many years, and they won't go away even if you eat right and exercise. Surgery is the most effective methods of permanently reducing the appearance of those lines, perhaps even keeping them away in the long run. We can discuss other benefits with you when you come to our cosmetic surgery center serving the San Francisco Bay Area.
Candidates for Brow Lift Surgery
The best candidates for brow lift surgery are people who are in good health and have realistic expectations about what the surgery is able to achieve. These patients should not suffer from any kinds of medical conditions that would otherwise prevent them from undergoing surgery. It's also important that the patient has come to his decision or her decision on their own and was not coaxed into surgery by another person.
If you are not a good candidate for brow lift surgery, there are alternatives to consider. In some cases, cosmetic injections and dermal fillers may be able to achieve comparable results, though you need to meet with our team to find out what's right for you.
Learn More at Our Cosmetic Surgery Centers Serving the Bar Area
For more information about brow lift surgery and why it's such a great way to enhance your overall appearance, contact our San Francisco Bay Area plastic surgery center today.