Posted in Chin Augmentation, Chin Implant, Chin Surgery, Facial Implant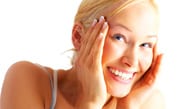 You may not think about it much, but the chin can greatly affect the overall appearance of your face. A chin that is too prominent can make your face seem too long, while a chin that's not prominent may make your nose and mouth area seem disproportionately prominent. That's just the way that facial features are interconnected. When you meet with a skilled San Francisco plastic surgeon, the surgeon will be able to craft the best possible treatment to meet your needs.
About Chin Augmentation Surgery
When performing cosmetic surgery on the chin, there are multiple ways to go about it. In some cases, the chin's size will be altered, which in others there will be the subtle removal of some bone structure of the chin to help reduce prominence. When you come to our practice for a facial plastic surgery consultation, we will be able to determine which option is best for you and your needs.
Good Candidates for Chin Augmentation Surgery
In general, the best candidates for chine augmentation surgery are people who have issues with the size or shape of their chins. They should be in good overall health and not suffer from any conditions that would prevent them from undergoing any sort of surgery. Since increasing chin size can reduce the prominence of the nose, some San Francisco rhinoplasty candidates are also good candidates for chin augmentation surgery.
How Chin Augmentation Surgery is Performed
As we alluded to above, the procedure will differ depending on if there needs to be more size and prominence added to the chin or if some structure needs to be removed from the chin. Sometimes a combination of both augmentation and reduction fo chin structure is used to improve symmetry and shape.
Chin Augmentation with Chin Implants
If you are going to have prominence and size added to the chin, you will likely have a chin implant put in place. When you visit our Bay Area cosmetic surgery center, we will help determine the best size and shape of chin implant to meet your needs. During the actual surgery, an incision will either be made under the chin or in the inside of the mouth between the lower lip and the teeth. Through that incision, the implant is placed and internal structures are adjusted.
Chin Augmentation without Chin Implants
If you need some structure of the chin reshaped and reduced, then the procedure will differ. The incisions will still be the same, however — under the chin, inside the mouth. Through these incision, portions of the chin will be resculpted and shaved down safely.
Recovery from Chin Augmentation Surgery
The team at our San Francisco Bay Area plastic surgery centers will provide you with full recovery instructions during your visit. In general, you will need to get plenty of rest and avoid strenuous activities for the first few weeks. You will likely notice swelling and bruising in the first few days, and mild discomfort is also common. This can all be managed through the use of pain killers and cold compresses.
Contact Our Bay Area Cosmetic Surgery Centers
For more information about cosmetic chin surgery and how it may be the answer for you, be sure to contact our San Francisco Bay Area cosmetic surgery practice today.