Posted in Facelift, Facial Plastic Surgery, Forehead Lift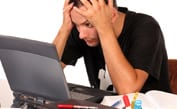 Wrinkles and sagging skin can really take their toll on your appearance. This is especially true when it comes to the face. Just a few problematic wrinkles can leave you looking years older than your really are or than you feel. It's for those reasons that meeting with a San Francisco plastic surgeon can be the best choice that you can make.
We'd like to focus on one part of the face where wrinkles can really cause problems: the forehead. We'll also look at one surgery that may be the answer that you've been looking for.
Wrinkles on the Brow and Signs of Aging
When you have deep lines on the forehead, they can do a number of things to your appearance. For one, these lines can make you look much older. Even though these furrow can add some distinction for a man's appearance, too many on a man makes them seem aged.
In addition, these brow lines can communicate emotions or an energy that isn't really there. For example, it's not uncommon for these kinds of lines and wrinkles to make people appear worried, tired, upset, or confused.
One option for addressing these concerns that a cosmetic plastic surgeon serving San Francisco might consider is the browlift.
About Browlift / Forehead Lift Surgery
Browlift surgery is performed in order to remove excess skin from the upper portion of the face and tighten the remaining skin to reduce visible wrinkles and furrows.
Ideal Candidates for Browlift
The best candidates for San Francisco browlift surgery are people who have deep lines and wrinkles on the forehead. These people should be in good overall health and not suffer from any health conditions that would make surgery risky in any way. During your visit, we will also provide you with a list of all risks and benefits so that you can make the best possible decision about your options.
The Browlift Procedure
During a traditional browlift surgery, incisions are generally made along the upper portion of a person's hairline. Through these incisions, underlying structures are adjusted and excess skin is removed. The remaining skin is pulled tighter and sutured in place. Some browlift procedures will use special instruments to limit the size and number of incision required.
Alternatives to Browlift Surgery
If you are not considered a good candidate for brow lift surgery, there are many other options out there to consider for anti-aging and wrinkle reduction. For example, dermal fillers and other cosmetic injections may be just what you need to look your absolute best.
We will be happy to discuss cosmetic skin care treatments as well as facial surgery options in more detail when you stop by the practice for a consultation. Sometimes a combination of the two may be just what you need for a complete makeover.
Schedule a Consultation for Cosmetic Plastic Surgery
If you would like to learn more about browlift surgery and your many other options for facial rejuvenation and wrinkle reduction, be sure to contact our Greenbrae, Petaluma, and Davis plastic surgery centers today. Our entire team looks forward to meeting you in person and helping you achieve the best possible aesthetic results.