Posted in Liposuction, Plastic Surgery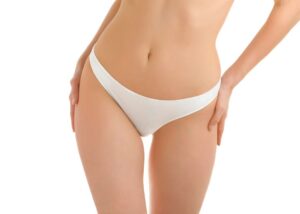 Liposuction can remove troublesome pockets of fat that have not responded to diet and exercise alone. Though liposuction is a relatively safe procedure, there are some side effects you should be aware of before undergoing treatment. To discuss your specific risks and possible side effects, we invite you to schedule a consultation with San Francisco plastic surgeon Kimberly Henry. In the meantime, read on to learn about the potential side effects associated with the liposuction procedure.
The Potential Side Effects of Liposuction
Liposuction may be a minimally invasive surgery, but like all surgeries, it comes with some potential side effects. Some side effects should expected, like swelling and bruising, and should clear up as the body heals. More severe complications, like blood clots, are less common, however, it's important to understand the risks involved with this cosmetic surgery. The potential side effects of the liposuction procedure include:
Swelling: Swelling is a natural part of the healing process and should be expected after liposuction. Swelling should reduce as the tissue heals. If swelling does not resolve or gets worse, this can be a sign of infection or other complication and should be brought to your doctor's immediate attention.
Bruising: Bruising after liposuction surgery is another common side effect and should be fully resolved within four to six weeks after surgery.
Scarring: Scarring may develop where incisions are made during the liposuction procedure. In most cases, scarring fades over time and is generally unnoticeable.
Skin numbness: The skin may feel numb immediately after liposuction and in the early stages of recovery. In most cases, numbness is temporary.
Liposuction Risks
Some of the possible risks of liposuction include:
Infection: Infection at the incision site may occur if wounds are not properly cleaned and cared for after surgery.
Excessive bleeding: In rare cases, excessive bleeding can occur as a result of liposuction treatment.
Blood clots: There is a possibility of patients developing blood clots after liposuction.
Cardiac issues: Even rarer is the possibility of cardiac problems such as cardiac arrest or cardiac arrhythmia.
Reducing The Risk of Side Effects
You can help reduce the risk of side effects after liposuction by following these tips:
Share your medical history with your surgeon: Before undergoing surgery, be sure to disclose your medical history to your surgeon to prevent the likelihood of complications. Also, let your surgeon know which medications you're taking, if any, to avoid any medication-related complications.
Follow all of your surgeon's instructions: Follow all pre- and post-operative instructions provided by your surgeon to help prepare you for surgery and improve your recovery.
Don't smoke before surgery or during recovery: Smoking hinders the body's ability to heal. If you smoke, be sure to stop smoking in the weeks leading up to your surgery and continue to stop during recovery.
Take light walks: You can reduce your risk of blood clots by taking light walks after surgery, even if it's just around the house, to keep your blood moving and prevent coagulation.
Schedule a Consultation
For more information or answers to your concerns about liposuction, we welcome you to schedule a consultation with Dr. Henry.