Posted October 26, 2015 in Breast Augmentation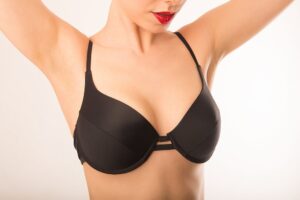 Although most patients are extremely happy with their breast augmentation, in rare cases some women may develop a condition called symmastia. Revision breast augmentation can help correct symmastia to create beautifully sculpted breasts. If you have developed symmastia or have other plastic surgery needs, we welcome you to schedule a consultation with San Francisco, CA plastic surgeon Kimberly Henry.
What Is Symmastia?
In rare cases, symmastia may occur after breast augmentation. Symmastia is a condition in which the breasts appear to be fused into one breast instead of two separate breasts. Symmastia is sometimes called bread loafing. Symmastia may occur as a result of too much tissue being removed from the cleavage area of the breasts. Symmastia may also occur as a result of either chest tissues, including glandular and connective tissues, or the pectoral muscles pushing the implants closer together.  Other causes include:
Breast implants which are too large for a patient's body frame
Implants are placed too close to the center line of the chest
Improper placement of implants, which may cause the weakening of the connective tissues over the sternum
Poor placement of one or both implants
Preventing Symmastia
Choosing a highly skilled and experienced plastic surgeon can greatly reduce the risk of symmastia. Symmastia can also be prevented by choosing the right size and shape implant for each patient's frame. Implants that are too wide or large on a petite frame are more likely to result in symmastia, which is why choosing the right implant, with the help of a well-trained surgeon, is important in preventing this condition.
Treatments for Symmastia
The appearance of symmastia may be corrected by wearing a separating bra, although this is not a permanent fix. Symmastia generally requires breast implant revision. The revision technique will depend on how the how the initial breast augmentation was performed, as well as the needs of the patient. Some types of revision treatments include:
Submuscular revision: If symmastia occurs in submuscular breast augmentation, which is the placement of the breast implant beneath the muscle, the pocket made in the breast tissue will need to be repaired in order to create a separation between the breasts.
Subglandular revision: When symmastia occurs in patients who've undergone subglandular breast augmentation, which is when the breast implants are placed above the muscle, the implants may be removed and replaced submuscularly.
Implant replacement: In cases where oversized implants have led to symmastia, the breast implants may be removed and replaced with a more proportionally sized implant.
Capsulorrhaphy: Capsulorrhaphy, also called the internal bra procedure, corrects symmastia with the placement of internal sutures used to reposition the breast implants.
Excess fat removal: Excess fat may be removed from the sternum area to create a separation between the breasts.
Schedule a Consultation
Symmastia requires surgery to repair. If you suffer from symmastia, Dr. Henry can help. To discuss your personalized treatment plan or to learn more symmastia treatment options, we invite you to schedule a consultation with Dr. Henry.