Posted in Plastic Surgery, Tummy Tuck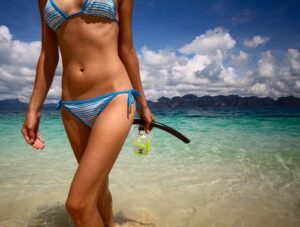 Patients often come to Dr. Kimberly Henry's San Francisco plastic surgery practice with complaints about excess fat and/or loose skin on the abdomen. Many of these patients have tried numerous diet and exercise programs but have still failed to see the results they desire. An abdominoplasty, or tummy tuck, is a procedure that can correct these flaws and leave patients with a smooth and contoured waistline. It is reasonable for patients to have many questions they'd like answered before making the decision to undergo plastic surgery. Besides questions that pertain to the techniques and recovery associated with the procedure, it is important for our San Francisco patients to have an accurate estimate of tummy tuck costs. Knowing the costs of tummy tuck surgery allows patients to make any necessary financing arrangements.
For our patients in San Francisco, tummy tuck surgery can be modified to meet the unique needs of each individual patient. Because the different forms of tummy tuck surgery will require different techniques and incisions, the costs of tummy tuck surgery will vary based on the type of modifications being made. Below are the average costs of common tummy tuck procedures.
Standard tummy tuck: The standard tummy tuck tightens the skin and muscles across the entire abdominal wall and utilizes an incision that extends from one hip bone to the other. The average cost of this procedure is $6,000 to $10,000.
Mini tummy tuck: The mini tummy tuck utilizes a shorter incision than the standard tummy tuck and tightens the skin of the lower abdomen. This procedure costs slightly less than the standard tummy tuck, with an average cost of $5,000.
Extended tummy tuck: As the name suggests, this procedure involves an incision that extends beyond that of a standard tummy tuck. Through this incision extends around the hips to the lower back, Dr. Henry can tighten the skin of the tummy, flanks, and lower back. Patients can expect to pay between $8,000 and $12,000 for this procedure.
Dr. Henry can also perform a modified tummy tuck for her patients in order to make alterations to specific areas of the abdominal walls or abdominal muscles. The cost of this procedure will vary based on the exact alterations made.
There are many components that should be factored into the final cost of a tummy tuck procedure. A tummy tuck procedure will require payment for the following:
Surgeon's fee
Surgical facility fee
Anesthesia and anesthesiologist fee
Pre-operative and post-operative appointments
Fees for medication
Fees for compression garment
Some of these costs will be included when a surgical estimate is given. However, if a particularly low quote is given, it is likely that the cost of all of these elements have not been included. Be sure to receive an estimate that includes all aspects of the tummy tuck procedure.
Schedule a Consultation
To receive an accurate estimate for the cost of a tummy tuck procedure that will address your specific areas of concern, schedule a consultation with Dr. Kimberly Henry. Dr. Henry will meet with you personally to discuss all aspects of the tummy tuck procedure and answer any of your questions. We want to help you feel sexy and confident again!