Posted in Body Contouring, Body Sculpting, Liposuction, Smartlipo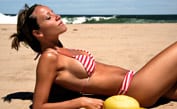 Body contouring surgery is a remarkably effective option for people who would like to get rid of a few problematic pockets of fat in various parts of the body. You see, even when you exercise regularly and eat healthy, pockets of fat can accumulate throughout the body. These may not respond to diet and exercise, which becomes a major source of frustration and aggravation for many people. The best way to address these issues is to undergo liposuction.
Crafting a Body Contouring Solution for You
When you visit Sacramento area plastic surgeon Dr. Kimberly Henry, she will perform a comprehensive examination of you and your needs to determine if liposuction would be the best body contouring surgery to meet your needs. In some cases, she may determine that a body sculpting and lifting surgery may be required in addition to liposuction. For example, if you have excessive sagging in the lower abdominal region, a tummy tuck may be recommended in addition to liposuction. Similarly, for targeted liposuction in the upper arm, an army lift may be recommended to deal with sagging or drooping skin.
Improved Body Sculpting Over Time
Over the years, there have been many advances in body contouring techniques and technology. These have helped improve the overall efficiency of various body contouring surgeries, enhancing surgeon accuracy and even improving recovery times and experiences for patients. We'd like to take a look at traditional liposuction surgery and Smartlipo to show you how advances in body sculpting technology have made a positive impact over the years.
Traditional Liposuction
First let's take a look at traditional liposuction surgery. This has been a standard of body sculpting options for many years now. During liposuction surgery, the surgeon will first assess which areas of the body will require treatment and how to best extract fat to create a more appealing body contour. When the actual surgery is performed, the patient will be conscious during treatment, though a local anesthetic will be administered so the patient feels no pain. A small, thin tube called a cannula is inserted into the treatment area. As the liposuction progresses, suction will be used to remove the fat from the treatment area.
Smartlipo
Looking at Smartlipo, we see that the procedure is mostly the same, but a small yet crucial innovation is involved. The main difference is that there is a laser fiber attached to the cannula during Smartlipo. This laser fiber is able to safely and precisely target the pocket of fat that is being extracted, dissolving the fat to make it easier to remove. This can potentially result in less bruising after surgery and an improved experience overall for the patient.
Body Contouring and Weight Loss Are Two Different Things
We should note here that liposuction is not a weight loss surgery. On the contrary, only a certain amount of fat can be safely removed from the body during the liposuction. Prior to surgery, we'll ask patients that they eat right and exercise, trying to minimize as much of the problem pocket of fat as possible. And after surgery, it's imperative that patients keep healthy to keep themselves looking trim and healthy down the road.
For more information about liposuction as well as the many other ways that you can get your body recountoured and sculpted, be sure to contact our Sacramento and San Francisco area cosmetic surgery practice today.