Posted in Breast, Breast Augmentation, Breast Enhancement, Breast Enlargement, Breast Implants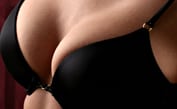 Breast augmentation surgery can greatly alter and enhance your overall appearance. Many people who have never undergone the surgery or researched it seem to think that all that is involved is picking the right size of breast implants and that's that. Well, as a matter of fact, there are many different decisions that go into each breast augmentation surgery. This is because each surgery needs to be customized to each patient. It seems so obvious, really. The patient's aesthetic goals need to be taken into account, as well as the patient's body type and other factors concerning a patient's medical history.
Consider Your Options
When you visit with Greenbrae, Petaluma, and Davis plastic surgeon Dr. Kimberly Henry, she will be sure to evaluate your situation in great detail. Using her expertise as a surgeon, she will be able to make the best decisions to help exceed your needs. She has helped countless patients through the San Francisco Bay Area and greater Sacramento region with surgery already, and she will be more than happy to discuss all of your options for breast augmentation during a consultation.
Let's take a brief moment right now to look at just some of the options involved in Davis breast augmentation surgery. We won't be able to cover all matters, but this should give you an idea about how involved the breast enlargement process can be and why you need a knowledgeable surgeon like Dr. Henry helping you.
Breast Implant Size and Composition
Let's first note that breast implant size is an important concern. But let's also note that bigger breast implants aren't always better for a patient. The composition of the breast implants is also an important option to keep in mind, as some patients may be better served by silicone breast implants rather than saline breast implants, and vice versa.
Breast Implant Shape, Texture, and Profile
Composition and size of the breast implants only skims the surface, however. There is also the shape of the breast implants to consider. Round shaped breast implants are the most commonly known ones, though there are also teardrop shaped breast implants that have benefited a number of patients. In addition to shape, the texture of the breast implants (essentially textured or non-textured) can also have an affect on the results following surgery. And though size is important, so is the profile of the breast implants. This refers to the amount of forward projection of the breast implants independent of their size.
Breast Implant Placement and Incision Sites
Of course, all of the above decisions will also have an affect on how the surgery is performed. In some breast augmentation surgeries, the breast implants are placed above the pectoral muscle and beneath the mammary gland. Other surgeries will involve the placement of the implant beneath the pectoral muscle. The type of breast implant you get will determine if the surgical incisions will be located around the areola, along the crease beneath the breast, in the belly button, or in the armpit. There's also the matter of other breast enhancement surgeries being combined with breast augmentation, which will also alter the surgical procedure.
If you are interested in breast augmentation surgery and would like more information on how it can benefit you, contact our Greenbrae, Petaluma, and Davis plastic surgery practice today.