Posted in Body Contouring, Body Sculpting, Massive Weight Loss, Tummy Tuck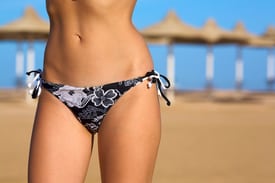 If you eat right, exercise regularly, and rest well, you can look your best and feel your best. Of course, these steps toward a healthy lifestyle don't always work, especially when it comes to major weight loss. You see, the main issue you have to deal with is skin laxity and skin sagging. Many people seek the advice of a skilled San Francisco plastic surgeon to learn how they can deal with body contour matters.
Body Contouring Issues After Major Weight Loss
After a person loses a lot of weight, there is often some loose skin or sagging skin that must be dealt with. This skin will not revert back on its own, however. When you come to our practices for cosmetic plastic surgery in the San Francisco Bay Area, we will be sure to discuss how we can best enhance your appearance and improve your overall body contour.
Dealing with Skin Laxity Issues
When a person gains weight and then loses the weight, the skin is stretched a great deal. For minor amounts of weight loss, the skin can shrink back just fine. But for major weight loss (as one experiences in pregnancy or bariatric surgery), the skin will not do so. That's why body contouring after major weight loss is used to help with skin tightening and revision.
Let's look at some basic surgeries that can be used to help tighten, tone, and firm the skin in different parts of the body.
Tummy Tuck (Abdominoplasty)
One of the most common surgeries for body contouring and skin tightening after weight loss is San Francisco tummy tuck. Also known as an abdominoplasty, the tummy tuck will involve the removal of excess skin around the abdominal area. The extent of the surgery and the incisions used will vary from patient to patient based on his or her needs.
Breast Lift and Breast Reduction Surgery
The upper torso is often affected by weight gain and weight loss just as much as the stomach area. It's for that reason that many people who lose a lot of weight also undergo breast lift and reduction surgery in order to tighten and tone the skin of the chest area. Whether it's a breast lift for women or a chest reduction for me, these upper torso treatments can greatly improve the overall appearance.
Full Revision of Your Body Contour
Other parts of the body can be affected by major weight loss, including the thighs, the upper arms, and even parts of the face. There are procedures that can be used to tone those areas as well, such as thigh lift, arm lift, and lower facelift surgeries. SmartLipo&™ advanced liposuction is often used with these other body sculpting surgeries to help ensure an overall enhancement of figure.
Learn More About Body Contouring and Skin Tightening
If you would like some more information about skin tightening and body sculpting after losing a great deal of weight, be sure to contact our San Francisco area cosmetic plastic surgery centers today. The entire team at our surgery centers is eager to help you meet and exceed your aesthetic goals.