Posted February 26, 2014 in Liposuction, Plastic Surgery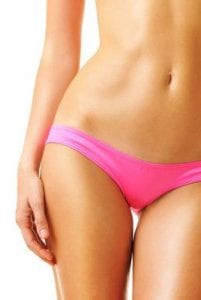 Men and women alike will find liposuction for the stomach an appealing treatment that can sculpt a flat and toned abdomen, even when diet and exercise fail.
Liposuction can benefit nearly everyone, but the best candidates are people near their ideal weight, but who are saddled with pockets of excess fat, such as on the hips, waist, or abdomen. They've dieted and exercised, but cannot achieve desired results on their own.
Board certified plastic surgeon Kimberly A. Henry in San Francisco offers stomach liposuction and can explain how this plastic surgery technique will help you achieve a toned abdomen when diet and exercise have stopped producing results. In addition to stomach liposuction, Dr. Henry performs liposuction on the neck, upper arms, chest, trunk, thighs, knees, calves, and ankles.
Abdominal Liposuction
The abdomen is the most common part of the body to undergo liposuction. In abdominal liposuction, small incisions are made in the abdomen and an anesthetic is injected. A small tube, called a cannula, is inserted and used to break up fat tissue and remove it.
In addition to traditional liposuction, Dr. Henry also performs Smartlipo in which a laser fiber is attached to the cannula. The laser dissolves the targeted fat, making it easier to remove. Liposuction is done under general anesthesia on an outpatient basis.
About Abdominal Fat
The abdomen has two types of fat, superficial fat and deep abdominal fat, and the amount of each can vary from person to person. Deep fat is found inside the abdominal cavity on the intestines and, unfortunately, cannot be removed by liposuction. Diet and exercise are the only cures for deep fat. Luckily, most people have more superficial fat than deep fat. Superficial fat is located just below the skin and can be successfully removed with liposuction.
Pregnancies and C-Sections
Pregnancies stretch the abdominal muscles and can cause the lower stomach to bulge. Unfortunately, liposuction does not tighten abdominal muscles, which requires a tummy tuck. However, many women who have lax muscles and excess fat are still happy with their liposuction results and do not feel the need to undergo a tummy tuck, which is a more invasive procedure.
Liposuction can also help women who have had Caesarian sections and find they are left with a persistent bulge of fat just above the incision. Liposuction can successfully remove this excess fat and smooth the area.
Liposuction Is Not Weight Loss
Liposuction is for people near their goal weight and is not a weight-loss treatment. In fact, only a certain amount of fat can be removed at any one time safely. For that reason, you should lose as much weight as possible before you undergo treatment. At that point, liposuction can remove any stubborn pockets of fat that remain while sculpting your contour for an attractive silhouette.
Next Steps
When done by a skilled cosmetic surgeon in a well-equipped facility, liposuction is considered a safe procedure.
If you are interested in abdominal liposuction, a personal consultation is the best way to learn how the treatment can benefit you personally. Please call for an appointment.