Posted in Laser Skin Resurfacing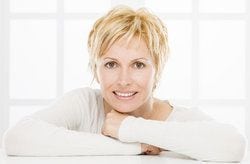 Dr. Kimberly Henry offers patients in and around San Francisco the latest in surgical and non-surgical facial rejuvenation. One of the more popular options available to reduce wrinkles is laser skin resurfacing, which is also referred to as a laser peel, lasabrasion, and laser vaporization. During laser skin resurfacing, concentrated beams of light are focused on the surface of the skin. This causes the topmost layer of skin to peel away, resulting in the emergence of newer, healthier skin beneath. This new layer of skin is softer, smoother, and has fewer visible wrinkles.
We'd like to take this opportunity to focus on the healing process that patients face after laser skin resurfacing so you have a better understanding of the overall nature of treatment.
Should I take time off work for laser skin resurfacing?
Yes.
Patients will notice that their peeling skin will be tender and swollen. While this is a normal side effect, it can be aesthetically off-putting. Generally the most severe peeling and swelling will last for a few days. Patients will want to take a week off of work, though longer may be necessary depending on the depth and extent of the laser skin resurfacing treatment.
What to Expect in the First Day After Laser Skin Resurfacing
In the first day or so after laser skin resurfacing, patients will notice that their skin will turn pink or dark pink, swollen, and may even ooze or have blisters. This is a normal part of the healing process. Some patients liken it to a case of bad sunburn. Some itchiness and discomfort is common, though it is generally manageable and fades with time.
Patients should stay indoors and away from the sun since their skin will be quite sensitive in the aftermath of laser skin resurfacing.
Do Not Pick or Scratch Your Skin
Crusting will form on parts of the skin as you heal, and it's important that patients avoid picking, touching, and scratching their faces during healing. Doing so can lead to small scars and other kinds of complications with the healing process and overall results.
Address Discomfort with Ice Packs and Pain Relievers
If you do feel discomfort and itchiness, it's a good idea to address these problems by taking pain relievers and by using ice packs. This can help control much of swelling and redness and make your healing experience more tolerable as well.
Keep Your Skin Clean as Instructed
Your plastic surgeon or skin care specialist will provide you with specific instructions for keeping your face clean with a saline solution or other special cleaning solution. Be sure to clean the treated portions of your face two to five times a day. This will prevent infection and improve the overall results of the treatment.
Avoid Strenuous Physical Activities
Focus on resting after laser skin resurfacing. Avoid heavy exercise, cardio, yoga, heavy lifting, sexual activity, and other kinds of unnecessary physical exertion.
Protect Your Skin from the Sun After Healing is Completed
Once you have fully healed from laser skin resurfacing and return to work, some pinkness and tenderness may still be present and may persist for weeks. This is normal. It's important to protect your skin from the sun for the weeks and months ahead, so be sure to wear sunblock and a hat with a brim. This will ensure that the results of treatment last a long time.
Schedule a Consultation with Dr. Kimberly Henry
For more information about laser skin resurfacing and other options available that can help you have skin that's beautiful and free from wrinkles and imperfections, be sure to contact our cosmetic plastic surgery center today. Dr. Henry and her entire team look forward to your visit and helping you achieve all of your aesthetic goals.