Posted January 30, 2015 in Body Contouring, Breast Reduction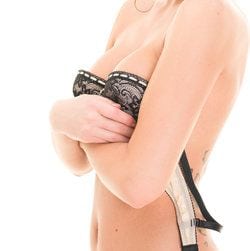 Dr. Kimberly Henry has earned a strong reputation for great cosmetic surgery results in the San Francisco Bay Area. This goes for facial plastic surgery procedures that reduce wrinkles as well as body contouring procedures such as breast reduction, an ideal solution for women who have overlarge, sagging, or pendulous breasts.
With regard to breast reduction surgery, there are many different ways that it can be performed. Let's take a moment right now to go over these matters.
The Traditional Breast Reduction Surgery
During a traditional breast reduction surgery, three incisions are made:
One circular incision around the areola (the darker patch of skin around the nipple)
One lateral incision along the crease where the bottom of the breast meets the chest
One vertical incision that connects the previous two incisions
Combined, these three incisions resemble an anchor-like shape.
Through these incisions, a surgeon is able to remove excess skin, fat, and glandular tissue and achieve a firmer, perkier breast contour in the process.
The Vertical Incision Breast Reduction Surgery
A variation on the traditional breast reduction technique, the vertical incision method of breast reduction is also known as the lollipop incision. During this form of breast reduction, the following two incisions are made:
One circular incision around the areola
One vertical incision from the areola incision down to the bottom of the breast
As with the previous form of the surgery, it is through these incisions that a surgeon is able to remove excess skin and fat and tighten the skin of the breasts in the process. Generally this vertical incision method is used when a patient's breasts droop and sag, but not in a major or pronounced way that would necessitate the full incision method.
Breast Reduction Surgery Combined with Breast Implants
While it may seem counterintuitive, breast reduction can be performed with breast implants placed as part of the procedure. During this form of breast reduction, incision are made so that excess tissue can be adjusted and a breast implant placed. The breast implant will not enlarge the breast but rather improve its shape and contour so that it appears perkier.
The incision method used for this kind of breast reduction will vary from patient to patient depending on her needs. Given the use of the implant, fewer and less extensive incisions are likely since the implant does part of the work in terms of addressing drooping and sagging.
The Benefits of Different Surgical Techniques
By using different surgical methods and incision techniques, surgeons are better able to customize the surgery to the needs of the patient. This means that patients who have specific aesthetic goals or body contouring needs can have a surgery properly tailored to them.
Which kind of surgical method would be best for me?
This is something that can be discussed during the consultation process. A consultation will allow us to assess your situation carefully and achieve the best possible results.
Schedule a Consultation with Dr. Kimberly Henry
If you are interested in undergoing a breast reduction and would like more information about the surgery and how it can benefit you, we encourage you to contact our cosmetic skin care and plastic surgery center today. Dr. Henry and her team look forward to discussing these matters in greater detail during the consultation process.