Posted in Facial Plastic Surgery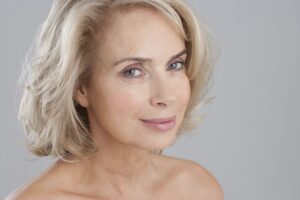 Facial plastic surgery can be a true blessing for people who want to turn back the hands of time five to ten years and recapture a more vibrant, youthful appearance. Especially when facial plastic surgery procedures are performed by a skilled, experienced plastic surgeon with a keen aesthetic eye such as Dr. Kimberly Henry, patients emerge looking fresher and healthier – not radically different, but like more refined and rejuvenated versions of their naturally beautiful selves. This is because the goal of facial plastic surgery is not to reinvent a person's appearance. Rather, it is to customize the surgical approach so that the patient's most uniquely aesthetic features are brought to the fore and enhanced, something that Dr. Henry is able to accomplish with unerring precision.
In many cases, however, facial plastic surgery allows patients to achieve just part of their overall cosmetic goals. While facial plastic surgery can dramatically improve the appearance of wrinkling and lines on the face, the quality and health of the skin will not necessarily improve. For this reason, Dr. Henry often recommends that patients consider combining professional skin care with facial plastic surgery at her San Francisco, CA practice.
Are you dissatisfied with the signs of aging on your face? If so, we encourage you to schedule your initial consultation with plastic surgeon Kimberly Henry today.
Professional Skin Care and Facial Plastic Surgery: Complementary Treatments
Different patients have different needs – indeed, no two patients will have precisely the same aesthetic needs and goals. Some patients with early signs of aging and good skin elasticity may be able to postpone the need for facial plastic surgery for years and achieve outstanding rejuvenation results through non-surgical methods. On the other hand, other patients with certain types of wrinkling may have otherwise reasonably healthy skin that appears radiant and full after a surgical procedure that targets a specific portion of the face – blepharoplasty or mid-facelift, for instance.
There are patients, however, who have experienced moderate to severe facial wrinkling accompanied by skin damage from exposure to the sun and other elements, lack of a proper skin care regimen, the passage of time, and other factors. Facial plastic surgery would benefit these patients in terms of restoring fullness to hollow areas of the face and reducing the appearance of wrinkles, but it would not address the issue of inadequate skin health in either the short or the long term.
It is possible to combine facial plastic surgery with less invasive procedures such as laser skin resurfacing and dermabrasion; however, excellent results can often be achieved with the top-of-the-line, prescription-strength skin care products available through our practice. Products such as the Theraderm Skin Care System, Refinity Skin Care, and Jane Iredale's Skincare make-up can help to accentuate the results of a patient's facial plastic surgery while nurturing the skin and promoting good skin health for years to come. Together with facial plastic surgery, these products can form a comprehensive facial rejuvenation plan that will reveal and enhance a patient's timeless, natural beauty, making her feel every bit as stunning as she truly is.
Learn More about Combining Professional Skin Care with Facial Plastic Surgery
To learn more about combining professional skin care with facial plastic surgery, please contact the plastic surgery practice of Dr. Kimberly Henry today.