Posted June 07, 2012 in Breast Augmentation, Plastic Surgery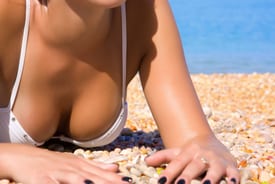 For the past decade, research into the many possible applications of stem cells has been the source of much media attention and public debate. Recently, the use of stem cells in plastic surgery has shown considerable promise, in a variety of both reconstructive and cosmetic applications. Do stem cells have a future in plastic surgery? The short-term answer is currently being explored; however, the long-term outlook for stem cell plastic surgery looks fairly good, indeed.
San Francisco plastic surgeon Kimberly Henry has long been at the forefront of advancements in plastic surgery. During her career, she has helped countless women feel better about themselves by producing consistently outstanding, natural-looking results through breast augmentation surgery. At her plastic surgery practice in San Francisco, stem cells plastic surgery is being explored as a safe, effective alternative to breast implants for women who wish to enhance their breasts.
The Stem Cell Augmentation Process
Stem cell breast augmentation actually begins with the performance of another plastic surgery procedure, liposuction. Using a thin suction device called a cannula, the surgeon removes excess fat deposits through tiny incisions made in precisely targeted locations. These locations can be nearly anywhere on the body where localized deposits of fat have accumulated; typical sites include the abdomen, buttocks, thighs, and flanks.
Once this fat has been removed, it is divided into two portions. The stem cells from one of the portions are removed and meticulously purified. The prepared stem cells are then introduced into the other portion of fat, where they serve two basic purposes: they significantly improve the survival rate of the fat cells transplanted into the breasts, and they promote the growth of new fat cells post-transplantation.
In lay terms, this means that women who have stem cell enriched fat transplanted into their breasts will not only experience an immediate increase in volume, but also grow their own new breast tissue as time passes. The breasts will continue to grow (though not undesirably so) in the months after surgery.
For our San Francisco breast augmentation patients, the most obvious advantage of stem cell breast augmentation is that it is completely natural – your body will not reject its own fat, and you will avoid having a foreign substance introduced into your breasts. This is not to say that breast implants are unsafe; they are extremely safe, and an experienced plastic surgeon such as Dr. Kimberly Henry produces consistently natural-looking results. However, for those who are hesitant to undergo breast augmentation with breast implants, stem cell fat transfer could pose an attractive alternative.
Another advantage of undergoing stem cell breast augmentation is that patients will receive additional body contouring results through the liposuction used to harvest the fat. This means that, in addition to having larger, more voluptuous breasts, you will also be able to bid farewell to the stubborn deposits of fat that resist even your best attempts at dieting and exercising.
Although the future of stem cells in plastic surgery looks promising, current technology and techniques do not provide surgeons complete control over the increase in the size and shape of the breasts. For this reason, most plastic surgeons, including Dr. Henry, prefer the use of implants in breast augmentation patients.
Contact Our Plastic Surgeon Today
If you would like further information breast augmentation surgery, or if you would like to schedule a consultation for breast augmentation with implants, please contact our San Francisco plastic surgery practice today.