Posted in Eyelid Surgery (Blepharoplasty), Plastic Surgery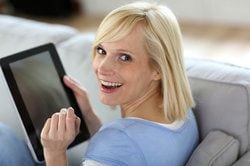 Eyelid surgery, or blepharoplasty, is considered by many to be a strictly cosmetic procedure. The results of eyelid surgery can provide patients with a more refreshed, alert, and youthful appearance. However, blepharoplasty is often performed for reasons of function rather than reasons of aesthetics. For some of our San Francisco patients, eyelid surgery is necessary to correct obstructed vision. For these patients, plastic surgeon Kimberly Henry can remove excess skin and fat to lift and lighten the lids so that clear vision can be restored.
Candidates
Eyelid surgery can be performed to reverse the appearance of heavy lids, and fatty deposits above and below the lid, in order to give patients a more youthful appearance and to erase the tired and worn expression that these signs of aging can produce in patients. However, candidates for eyelid surgery to correct obstructed vision are those whose lids are so heavy that they hang over the eyelashes and create a "hood" that interferes with and partially obstructs the vision. By removing excess skin, Dr. Henry can lighten the lids and clear vision for these patients.
The Procedure
Eyelid surgery is performed as an outpatient procedure with the patient under sedation and either a local or general anesthesia. Dr. Henry will make an incision in the natural crease of the upper eyelid; this gives her access to the excess fat and tissue of the upper eyelid. This incision placement is also beneficial because it will conceal the scar that will remain following surgery. Dr. Henry will trim away excess tissue above the incision line to create a lighter and smoother eyelid. Any bulging fat will also be removed.
Benefits
Eyelid surgery can lift the eyelids so that vision is no longer obstructed by heavy, sagging lids. In addition, patients who undergo eyelid surgery will experience the following benefits:
Lighter upper eyelids
More visible, open upper eyelids
A more refreshed and awake appearance
Cost
The cost of eyelid surgery is affected by many variables and will differ for each patient. After a consultation, Dr. Henry can provide patients with an accurate cost estimate for eyelid surgery. It is important to note that eyelid surgery that is performed in order to improve vision may be covered, at least in part, by the patient's insurance provider. Dr. Henry and her staff are happy to work with the insurance provider to obtain any applicable coverage that is available. This includes providing any necessary documentation of the vision problems that have been experienced by the patient as a result of heavy, sagging eyelids.
Patients who do not qualify for insurance coverage can work with financing companies to find a payment plan that can make the cost of eyelid surgery more affordable. Our staff is happy to provide patients with more information regarding outside financing.
Contact Us
If you have questions about eyelid surgery, contact us at your earliest convenience. Dr. Kimberly Henry is happy to meet with you personally to discuss this procedure in more detail and answer any questions you may have. We look forward to meeting you!