Posted in Testimonial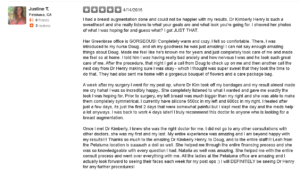 I had a breast augmentation done and could not be happier with my results. Dr Kimberly Henry is such a sweetheart and she really listens to what your goals are and what look you're going for. I showed her photos of what I was hoping for and guess what? I got JUST THAT.
Her Greenbrae office is GORGEOUS! Completely warm and cozy, I felt so comfortable. There, I was introduced to my nurse Doug.. and oh my goodness he was just amazing! I can not say enough amazing things about Doug. Made me feel like he's known me for years and just completely took care of me and made me feel so at home. I told him I was having really bad anxiety and how nervous I was and he took such great care of me. After the procedure, that night I got a call from Doug to check up on me and then another call the next day from Dr Henry making sure I was okay – which I thought was super sweet that they took the time to do that. They had also sent me home with a gorgeous bouquet of flowers and a care package bag.
A week after my surgery I went for my post op, where Dr Kim took off my bandages and my result almost made me cry haha! I was so incredibly happy.. She completely listened to what I wanted and gave me exactly the look I was hoping for. Prior to surgery, my left breast was much bigger than my right and she was able to make them completely symmetrical. I currently have silicone 550cc in my left and 600cc in my right. I healed after just a few days, its just the first 2 days that were somewhat painful but I slept most the day and the meds help a lot anyways. I was back to work 4 days later! I truly recommend this doctor to anyone who is looking for a breast augmentation.

Once I met Dr Kimberly, I knew she was the right doctor for me. I did not go to any other consultations with other doctors, she was my first and my last. My entire experience was amazing and I am beyond happy with my results!!! Thanks so much to the amazing Dr Kimberly Henry, to Doug, and to the entire staff!!! Leah from the Petaluma location is suuuuch a doll as well. She helped me through the entire financing process and she was so knowledgeable with every question I had. Natalia as well was amazing. She helped me with the entire consult process and went over everything with me. All the ladies at the Petaluma office are amazing and I actually look forward to seeing their faces each week for my post ops 🙂 I will DEFINITELY be seeing Dr Henry for any further procedures!