Posted February 17, 2012 in Facelift, Plastic Surgery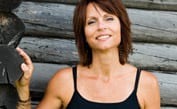 The popularity of dermal fillers has been increasing for the past several years; indeed, soft tissue injections are done millions of times per year in the United States. In fact, the American Society of Plastic Surgeons (ASPS) reported that member surgeons performed 1.9 million soft tissue filler injection procedures in 2011; this was an increase of 7 percent compared to the number of procedures done in 2010.Meanwhile, the number of facelift procedures also increased, up 5 percent from the previous year, with 119,000 facelifts reported by ASPS surgeons in 2011.
These numbers indicate that many Americans are concerned about the effects of facial aging. The use of facelift surgery and/or dermal fillers can smooth wrinkles, fill out hollows, and make the skin more taut. In this blog post, San Francisco plastic surgeon Kimberly Henry reviews the benefits and differences between facelift surgery and dermal fillers.
Dermal Fillers
We offers several soft tissue filler products at our practice, including:
Restylane®
ArteFill®
CosmoDerm®
CosmoPlast®
Perlane®
Radiesse®
Sculptra®
Juvéderm™
These products offer varying benefits that make them a good fit for surface or deep wrinkles, specific areas of the face, and certain skin types. Dr. Henry will determine which dermal filler product is best for you after a personal consultation. Next, the filler will be strategically injected into target areas to reduce the signs of aging. The filler material adds volume to the area in which it is injected, reducing the appearance of facial wrinkling. Fillers can also be used to plump up features that have lost fat, such as the area under the eyes and the lips.
The main advantage of dermal filler injections is that the procedure is quick, and there is virtually no recovery period associated with treatment. Injections can be done in as little as 10 minutes, and most patients return to their regular routines immediately after getting the injections done.
Dermal fillers are used as an alternative to facelift surgery for patients that are not quite ready to undergo the knife. The treatment can also be done in combination with facelift surgery.
Facelift Surgery
Facelift surgery is more invasive than filler injections. During treatment, Dr. Henry creates an incision above the hairline. Through the incision, Dr. Henry repositions underlying muscles. Next, she tightens the skin to produce a smoother contour, removes any excess skin, and closes the incision. Finally, bandages are placed over the incisions to provide some protection to the wounds.
Facelift patients may return to work 10 days to two weeks after surgery. However, they need to stay out of the sun, limit movement, and take it easy for at least a month. Most of our San Francisco facelift patients think the procedure is worth the recovery; facelift surgery offers beautiful results that look more natural than ever before.
If you are interested in undergoing dermal filler injections or facelift surgery with Dr. Henry, contact our practice today. A member of our staff will schedule your personal consultation with Dr. Henry at your earliest convenience.