Posted in Body Contouring, Liposuction, Thigh Lift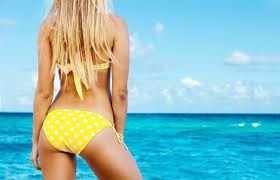 When it comes to looking your absolute best, you may be surprised to find out how a little bit of change can make a big difference. Take the arms, for example. Issues with the contours of the upper arms may make you reluctant to wear short sleeves or show too much shoulder. The problem is more pronounced when it comes to the thighs. While you can do all the lunges and squats you want, the best solution usually involves undergoing plastic surgery of some kind.
Aesthetic Problems Associated with the Thighs
The thighs are usually a problem area for women, especially given how weight is distributed in women and the body contouring issues they face later in life. With major weight gain, fat tends to settle around the lower body, especially the hip and thigh area.
In addition, if a patient (regardless of gender) loses a lot of weight, there are often many problems with the look of the thigh area. Some of these post-weight loss body contouring issues include drooping skin, sagging skin, and flabby skin.
None of the above issues can be addressed through diet and exercise alone. That's why a cosmetic surgeon can prove so helpful, and a surgeon has a number of options to consider when it comes to addressing the thighs.
Liposuction for the Thighs
When the aesthetic issue is pockets of excess fat in the thigh area, the best option to consider is usually liposuction. This involves the safe extraction of fat from problem areas of the body.
Ideal Candidates for Liposuction of the Thighs
The best candidates for traditional liposuction and SmartLipo (laser liposuction) are people who have excess bits of fat in the thigh area that will not go away with regular exercise and healthy eating. We should stress here that liposuction is not intended as a weight loss method but as a means to remove excess fat for aesthetic reasons only.
Thigh Light Surgery
Another option for improving the appearance of the thighs is thigh lift surgery. During a thigh lift, incisions are made around the groin area or hip area. The location of these incisions will be determined by the cosmetic plastic surgeon during the consultation process. In general, all of these incisions are well hidden by most undergarments and bathing suits.
Through these incisions, excess tissue and skin is carefully excised. It is not uncommon for excess fat is removed using liposuction as well. The remaining skin is pulled tighter to enhance overall contour.
Ideal Candidates for Thigh Lift Surgery
The best candidates for thigh lift surgery are patients who have loose or sagging skin in the thigh and hip area. They should be in overall good health and not suffer from any kind of medical conditions that would make surgery risky. It's also important that patients have realistic expectations about the surgical process and the scars that will result from the procedure.
Learn More About Advanced Body Contouring
For more information about your many different options for advanced body sculpting and contouring, be sure to contact our cosmetic surgery centers serving San Francisco and Sacramento today. The entire team here looks forward to meeting you in person and discussing all of these matters with you in greater detail.