Posted in Eyelid Surgery (Blepharoplasty), Plastic Surgery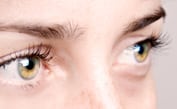 If you are unhappy with the appearance of your eyelids, you may be considering eyelid surgery, which is also referred to as blepharoplasty. Blepharoplasty is used to remove excess eyelid tissue to create a rejuvenated, youthful appearance. Before you elect to have this procedure performed, it is important to understand the possible side effects and risks involved. We invite San Francisco plastic surgery patients to schedule a consultation with Dr. Kimberly Henry to discuss the possible risks and benefits of eyelid surgery.
Side Effects of Eyelid Surgery
Blepharoplasty is a procedure designed to improve the appearance of sagging, puffy eyelids. Though the procedure is minimally invasive, with recovery only lasting a few weeks, there are common side effects of treatment.
Pain: Pain is a common side effect after eyelid surgery. For many patients, the pain following blepharoplasty is not severe. Pain medication will be prescribed by your doctor to help alleviate any pain you may feel following surgery.
Swelling: Swelling is a possible side effect of blepharoplasty. Swelling should reduce in the days following surgery, however, you can help reduce swelling by applying clean, cold compresses gently to the eyes.
Scarring: Scarring is to be expected following eyelid surgery, though the amount of scarring can be reduced when surgery is performed by an experienced surgeon. Incisions are made where they will be least noticeable and, for most, will fade over time.
Blurry Vision: Some patients experience blurry or double vision following surgery. Swelling may cause blurry vision, as well. For most, blurriness or double vision clears up within a few days.
Dry Eyes: Your eyes may feel dry following blepharoplasty. Eye dryness often only lasts a few days and can be alleviated with eye drops approved by your physician.
Teary Eyes: Some patients experience excess tear production. This usually improves within a few days.
Trouble Keeping The Eyes Closed: Keeping the eyes closed during sleep may be difficult immediately after surgery. For most, this difficulty will wear off; others may find it to be permanent.
Possible Risks of Eyelid Surgery
Though rare, there are potential risks associated with eyelid surgery, including:
Hematoma: A hematoma may occur after eyelid surgery. A hematoma is the pooling of the blood beneath the skin that may occur as a result of surgery.
Retinal Detachment: Retinal detachment, when the retina is separated from the eye, is a possible risk of blepharoplasty. Patients who experience retinal detachment must undergo additional surgery to correct this complication.
Infection: Infection is a possible risk of any surgery, even minimally invasive procedures like blepharoplasty. Keeping your incisions clean and following your physician's instructions can help to prevent infection.
Schedule a Consultation with Dr. Kimberly Henry
Though there are some risks and side effects to eyelid surgery, there are many benefits to this procedure. For our patients in San Francisco, eyelid surgery is a wonderful way to restore confidence and rejuvenate the appearance. Blepharoplasty can make you look years younger, more alert, and well rested. To find out if eyelid surgery is right for you, we invite you to schedule a consultation with Dr. Kimberly Henry.