Posted in Plastic Surgery, Rhinoplasty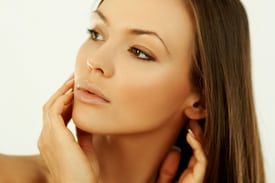 The nose is the central facial feature and, as such, plays a dramatic role in our overall appearance. The bad news is that this means a nose that is disproportionate to other facial features or one that has even slight cosmetic flaws can drastically alter the appearance. However, the good news is that even the slightest alterations made during a rhinoplasty procedure can greatly improve one's facial features and aesthetics. It is for this reason that rhinoplasty is one of the most requested procedures at Dr. Kimberly Henry's plastic surgery practice. While the benefits of rhinoplasty surgery are numerous, it is understandable that, for many of our San Francisco patients, rhinoplasty costs are a major consideration of surgery. Dr. Henry is happy to help patients gain a better understanding of what can be expected for rhinoplasty costs.
There are a number of factors that will affect the final cost of a rhinoplasty procedure. As with any cosmetic or medical surgery, the cost will include fees for the surgeon, anesthesia, and hospital or surgical facility. Dr. Henry performs rhinoplasty surgery as an out-patient procedure, which does significantly cut down the cost of facility fees. Other costs associated with rhinoplasty surgery include surgical consultation fees, medication fees, follow-up appointment fees, and grafting or implant fees (when applicable). These fees may or may not be included in a rhinoplasty quote, so it is important to inquire about these costs.
In addition to the above considerations, the cost of rhinoplasty will be greatly affected by the type of rhinoplasty that is performed and the extent of alterations that will be made during surgery. These are decisions that will be determined at the initial surgical consultation once Dr. Henry has examined the nose and listened to the patient's specific desires. In general, a primary rhinoplasty procedure can be expected to cost between $5,000 and $8,000. A revision rhinoplasty, in which Dr. Henry is repairing a previous rhinoplasty procedure, the alterations will be more complicated and thus the cost will reflect this. Revision rhinoplasty surgery may cost between $10,000 and $15,000.
Will Insurance Cover Rhinoplasty Surgery?
In general, insurance companies will not cover the cost of elective cosmetic procedures. However, if rhinoplasty surgery is being performed to correct a functional defect or breathing problem, it is possible that insurance will cover the procedure in part or even full. Even when medical or functional concerns are the reason for surgery, it is important to contact the insurance provider before surgery, as preauthorization will likely be required.
If insurance coverage is not an option and the costs of surgery are a burden for patients, we can recommend financial companies that will allow patients to work out an affordable monthly payment plan.
While there are varying rhinoplasty costs among surgeons, be wary of any cost estimates that are significantly lower than the average rhinoplasty cost. Above all else, it is important that a patient does not compromise quality and experience. For a surgery that is as detailed as rhinoplasty, it is important to be in the hands of a board certified plastic surgeon such as Dr. Kimberly Henry.
Schedule a Consultation
If you'd like to bring balance to the face and enhance your overall appearance, rhinoplasty surgery may be the ideal solution. Schedule a consultation with Dr. Kimberly Henry at your earliest convenience to discuss your aesthetic goals. We look forward to meeting you!