Posted in Liposuction, Plastic Surgery, Tummy Tuck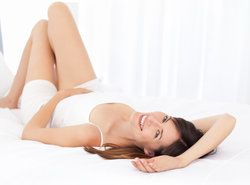 Whether it's a breast augmentation, facelift, or body contouring procedure, we strive to deliver beautiful, impressive cosmetic enhancements for every patient. To protect the precise and delicate work we achieve, many patients who undergo treatment at our San Francisco plastic surgery center often go home with a compression garment. Not to be confused with a girdle or compression sportswear, the post-operative compression garment has a medical purpose and provides patients with the best, most satisfying results.
What Is a Compression Garment?
After plastic surgery, such as liposuction and breast augmentation, patients go home with a compression garment or tape covering the treated areas. These special post-op garments are applied in a way that places gentle, comfortable pressure to specific points of your body to aid in healing after cosmetic and reconstructive surgery. Wraps and garments are designed to support and compress various body parts.
What Do Compression Garments Do?
Compression garments help improve the success of surgical procedures by promoting healing and aiding the body in flushing out harmful fluids. These medical garments are designed to:
Shorten the recovery time
Reduce bruising
Reduce excessive swelling
Reduce fluid collection
Support posture and abdominal muscles
Help settle breast implants into a natural position
How Long Do I Have to Wear It?
Every patient heals at his or her own pace, but the following list provides a typical timeline for how long compression garments are worn after each procedure.
Liposuction – two to six weeks, depending on the body area and liposuction technique
Thigh or buttock lift – three to four weeks
Breast surgery – about a week
Tummy tuck – four to six weeks
Upper arm lift – two weeks in a wrap or elastic sleeve
Facelift – a few days in surgical gauze and/or compression garment
Can I Wear a Different Compression Garment?
Committing to wearing a high-quality compression garment helps ensure the most successful recovery and most attractive outcome. Some patients find that our compression garments are easier to put on and take off, and usually provide more support than non-medical garments, like Spanx.
Patients who prefer to wear Spanx or other store-bought compression undergarments might be able to switch to those in about two weeks, depending on the healing process. The key to buying your own compression garment is that it must be easy to pull on, provide substantial support, and not feel excessively tight. It should extend beyond the treatment area; for example, if you have a tummy tuck, the garment should start at your breasts and extend past your hips.
After breast surgery, most patients are able to switch to a soft, non-underwire bra in about a week. Male breast reduction patients can switch to a compression tank after the first few days.
Schedule a Consultation
If you are interested in plastic surgery to reveal a more streamlined and toned body contour, we invite you to schedule a consultation. Dr. Kimberly A. Henry delivers results to the highest standards with a genuine, caring attitude toward her patients. Our entire team is committed to ensuring your cosmetic surgery experience is as comfortable and rewarding as possible.