Posted in Skin Care Products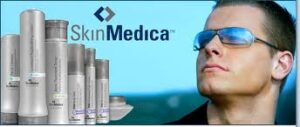 Now under the direction of Dr. Kimberly Henry, we are proud to announce SkinMedica® products sold exclusively through our office for raident skin for both men & women!  This medically supervised skin regimen is capeable of regenerating the skin at the cellular level thus effective in promoting naturally radiant skin.  SkinMedica® has devoted years of research into formulating advanced skin care products under the guide of a physician to ultimately provide you with anti-aging skin rejuvenation.
Skin Care Basics
No matter what skin type you have,  the principles remain the same. SkinMedica® should be used twice a day; morning and at night. It is recommended to cleanse, tone, rejuvenate the skin, provide age defense, and to complete the process with full moisturizing and sun defense.
The Products
Cleanse – with gentle non-irritating sweet smelling cleansers that purge the skin of makeup, dirt, and environmental pollutants while maintaining the natural skin moisture balance.
Tone – with PH balanced clarifiers and fresheners that tone and refine the skin gently.
Skin Rejuvenation – Revolutionary anti-aging skin treatment serums made with naturally occuring growth factors like soluble collagen, cytokines and matrix proteins along with antioxidents work wonders to rejuvenate the skin.
Age Defense – Suitable for all skin types and restores balance from sun damage, aging and external environmental extremes by providing vital components to the skin.
Moisturize – Restores proper hydration levels and revitalizes the skin tone and texture.
Sun Protection – Made with a triple protection formula which prevents UVA/UVB rays from penetrating or entering the skin. Potent antioxidents protect the skin against free radical damage. Essentially creating a barrier form the damaging effects of the sun.
TNS Recovery Complex®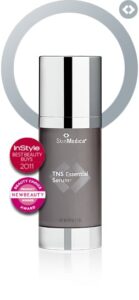 Featuring the anti-aging serum TNS which combines the patented growth factor serum, TNS Recovery Complex®, which contains potent antioxidants, peptides and other anti-aging ingredients to regenerate your skin.
Improves the tone and texture of skin, reduces appearance of fine lines, wrinkles and immediately plumps the skin creating a rejuvenated look! Call us today for further information about TNS Recovery Complex® Serum and all of the other innovative SkinMedica® products.
Meet our on site aesthetician at our MedSpa facility by booking an appointment to find out about SkinMedica® products at Dr. Kimberly Henry's office in Greenbrae, CA. We look forward to helping you with your skin care needs just in time for a refreshed look for the fall and onward into the fast approaching holiday season.
Enjoy new skin care innovation with optimized skin care results through the use of medically supervised skin care products. Be well!