Posted in Liposuction, Plastic Surgery, Tummy Tuck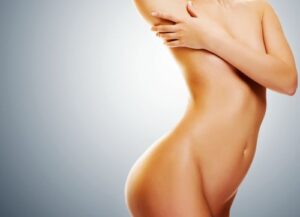 Plastic surgery is not the answer when patients have a significant amount of weight to lose. It is important for patients to control their weight through proper diet and a regular exercise routine. Having said that, plastic surgery can be helpful in sculpting the body or eliminating stubborn deposits of fat that are present even when a patient is within a healthy weight range. Most people have areas of the body that they'd like to smooth or contour, despite their weight. Dr. Kimberly A. Henry helps patients address areas of concern at her San Francisco plastic surgery practice by offering liposuction to appropriate candidates. Liposuction can help mold areas of the body to a more pleasing and proportionate shape.
Liposuction Candidates
Liposuction is a versatile plastic surgery procedure. Liposuction can improve the contour the face and body. Patients who would like to eliminate excessive fat from any of the following areas are potential candidates for liposuction:
Thighs
Buttocks
Abdomen
Arms
Calves
Ankles
Torso
Back
Chin/neck
Patients who would like to sculpt any of these areas of the body through liposuction will also need to meet the following criteria in order to be considered good candidates for the procedure:
Maintain a healthy weight (Dr. Henry can safely remove larger amounts of fat for some heavier patients as well. This can be discussed at a consultation with Dr. Henry.)
Have expectations for a drastically improved body, but not unrealistic expectations of perfection
Healthy enough to undergo a surgical procedure
Have elastic skin that will shrink to the body in response to liposuction
In addition, liposuction is often a good choice for patients who are already undergoing other plastic surgery procedures. Dr. Henry can combine liposuction with other procedures to enhance the results of plastic surgery. Other surgical procedures that work well alongside liposuction include tummy tuck, thigh lift, buttock lift, arm lift, breast reduction, and breast lift.
Liposuction Procedure
For those patients who are candidates for liposuction, the surgery will be performed as an outpatient procedure. At Dr. Henry's practice in San Francisco, liposuction is performed with the patient under general anesthesia. Dr. Henry will make several small, inconspicuous incisions that give her access to the localized fat deposits. The excessive fat will then be vacuumed out through small tubes called cannulas. Patients will be sent home in compression garments that should be worn for the first month following surgery. These garments will help reduce swelling and aid in recovery. As swelling subsides, patients will notice a more toned and contoured body. Full results should be visible within two to three months after surgery.
Schedule a Consultation
Dr. Kimberly Henry is an experienced plastic surgeon who can be trusted to look out for her patients' best interests. If you would like to know if you are a good candidate for liposuction, schedule a consultation with Dr. Henry. Dr. Henry will honestly answer any questions you may have and let you know if liposuction is the appropriate procedure to help you reach your aesthetic goals.