Posted in Body Contouring, Breast Enhancement, Mommy Makeover, Plastic Surgery After Pregnancy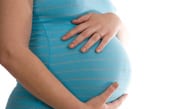 Having a child can be a life-changing experience, and we mean that in more ways than one. Obviously there is a lot of joy and beauty in bringing a baby into the world, but it can result in major changes to you appearance as well. Many women visit our San Francisco plastic surgeon after childbirth in order to find out what they can do to enhance their appearance and restore their figure. We'd like to take a moment right now to look at how pregnancy can alter the size and shape of the breasts and how we can help address these issues.
Pregnancy and Your Body Contour
Any time you gain a significant amount of weight and then lose that weight, your body contour will change. This is obviously true with the stomach area, which stretches out to accommodate the child as her or she develops. The breasts also change during pregnancy. This is due to hormones in your body causing blood flow to increase to the breasts. Breasts can grow a cup size or two and often feel very sensitive during this time.
After pregnancy, you may return to your normal weight, but your skin which has stretched out may not, resulting in sagging and stretch marks. This is particularly true pf the breasts in the months after childbirth. In many cases, they will not be as firm or perky as before. This is the normal nature of skin laxity, and it can only be addressed by undergoing treatments at our cosmetic surgery practice serving San Francisco and Sacramento.
Options for Mommy Makeovers and Rejuvenation
In order to improve the overall appearance of your breasts, there is the mommy makeover treatment. This will combine breast enhancement surgery with other contouring and anti-aging procedures to help restore your figure. Let's look at some common surgeries that are used to help improve the appearance of the breasts.
Breast Lift and Breast Reduction
The two most common mommy makeover surgeries for the breasts are breast lift surgery and breast reduction surgery. These two surgeries are very similar and are designed to remove excess skin and tissue to make the breasts look perkier and better proportioned.
The incisions for both surgeries are made around the areola and along the underside crease of the breast, with an incision connecting them along the lower curve of the breasts. Less extensive lifting and reduction needs will call for less extensive/fewer incisions. We can discuss alternative incision methods when you visit our cosmetic plastic surgeon serving the San Francisco Bay Area.
Breast Augmentation
It's not uncommon for women to undergo breast augmentation as part of their mommy makeover treatment. Breast implants will increase the size of the breasts and improve overall appearance and contour in the process. In other cases, it's not uncommon for San Francisco breast augmentation to be combined with breast lift surgery for a simultaneous size enhancement and contour adjustment.
Learn More About Cosmetic Surgery and Aesthetic Enhancement
If you would like more information on mommy makeovers and how you can rejuvenate your appearance, be sure to contact our plastic surgery centers in Greenbrae, Petaluma, and Davis today. Our entire team looks forward to meeting you in person and discussing these issues with you in greater detail.