Posted in Body Contouring, Breast Augmentation, Breast Lift, Mommy Makeover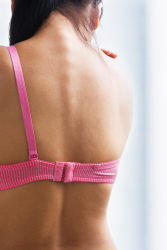 Women who want to enhance their curves and look their absolute best can turn to one great option for advanced aesthetic care. We're speaking about breast implants. By increase the size and improving the contour of the breasts, women can enhance their overall appearance a great deal. Candidacy for the procedure can be determined by a plastic surgeon.
About Breast Augmentation Surgery
During a breast augmentation surgery, breast implants will be carefully placed in order to improve the overall size, shape, and contour of the breasts. There are many different kinds of breast implants that can be used to achieve a patient's aesthetic goals.
Changes to the Breasts After Pregnancy and Childbirth
One reason that women decide to get breast implants is to address issues with aesthetics following pregnancy. When a woman is pregnant and gives birth to a child, the breasts go through a number of major changes. For one, they can change a great deal in overall size and contour. Drooping and sagging of the breasts due to the weight gain, weight loss, and swelling associated with pregnancy are also common.
By getting breast implants, women can improve the contour and perkiness of their breasts while also enhancing overall appearance in the process.
Ideal Candidates for Breast Implants After Pregnancy
The best candidates for breast implants following pregnancy are women who are in good overall health and have realistic expectations about the procedure, the potential for scarring, and what the end results will look like. During your consultation at our cosmetic plastic surgery center, we will be sure to address any and all concerns that you may have about the procedure and what it can achieve.
Combined Breast Augmentation and Breast Lift
While breast implants may prove effective for some patients, others may want to consider a combined breast lift and augmentation surgery. During a combined breast augmentation and lift, breast implants are place in the breasts and excess skin and other tissue is removed in order to improve overall perkiness of the breasts.
This combined augmentation and lift is a great option to consider for people who have major issues with drooping and sagging of the breasts following the birth of their child and/or nursing.
Other Options for Mommy Makeover Treatment
The changes that women go through following childbirth are not limited to the breasts. The abdominal area, the hips, the thighs, the buttocks, and even parts of the face can all be adversely changed due to the weight gain and weight loss associated with pregnancy. Diet and exercise will not be able to properly address these matters.
In order to address all of these body contour problems, a combination of body contouring procedures can be performed. This combination of surgeries is known as a mommy makeover. The mommy makeover will seek to restore the appearance of a woman to the way she looked before giving birth. Each mommy makeover will be carefully tailored to the patient's needs. We can discuss these matters in greater detail during your visit.
Learn More About Advanced Body Contouring Surgeries
If you would like more information about all of your options for breast enhancement as well as advanced body sculpting and body contouring after pregnancy, be sure to contact our San Francisco Bay Area plastic surgery centers today. The teams at our Davis, Petaluma, and Greenbrae locations look forward to meeting you in person and helping you achieve the best possible aesthetic results.