Posted in Breast Augmentation, Breast Enhancement, Breast Lift, Breast Reduction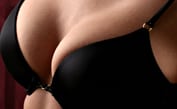 The breasts can be a problem area for many women. That may be why we see many patients at our San Francisco plastic surgery offices. People throughout the Bay Area and even parts of Northern California have come to receive expert treatments that enhance their appearance as well as their overall sense of self. Our team would like to take a few minutes right now to look at some of the most common aesthetic problems that involve the breasts and how they can be addressed.
Breasts That Are Small
Many women feel that their breasts are not well-proportioned to their frame. Sometimes they wouldn't mind just a slight boost in size in order to have a figure that is fuller and curves that are more effeminate. There are plenty of products out there that claim to boost breast size without surgery, but most of those products are ineffective and falsely advertised.
Treatments for Breasts That Are Small
The ideal treatment for increasing the size of the breasts is San Francisco breast augmentation surgery. This surgery involves placing breast implants into the breast pocket, boosting the size of the breasts and enhancing a woman's curves in the process.
Breasts That Are Too Large
There are other instances in which a woman may have breasts that are disproportionately large for their frames. In cases in which the breasts are too large, the size of the breasts may result in undue self-consciousness, difficulty buying clothes that fit properly, and even back pain and neck pain. Women who notice issues with body pain and breast size are advised to speak with their physicians as well as a plastic surgeon serving San Francisco.
Treatments for Breasts That Are Too Large
In order to reduce the size of the breasts and improve contour of the body, the best option is a breast reduction surgery. Breast reductions will remove excess skin, fat, and glandular issue from the breasts so that they are smaller and better proportioned to a woman's frame. This alleviates any issues with pain and self-consciousness.
Breasts That Droop or Sag
Age, pregnancy, and dramatic weight loss can all take their toll on a woman's appearance. This is especially true with the breasts. Women who have drooping or sagging breasts may not feel quite as comfortable with their appearance, desiring perkier and firmer breasts instead.
Treatments for Breasts That Droop or Sag
The ideal treatment for drooping or sagging breasts is a breast lift surgery. Much like breast reduction, excess tissue is remove for improve contour. The breast lift may also involve breast implants, which means a combined enhancement of size and revision of breast shape. For body contouring after major weight loss, a breast lift may be coupled with tummy tuck and liposuction in order to restore the trimmer, fitter frame of a woman's body.
Breasts That Are Asymmetrical/Lopsided
While some asymmetry with the breasts is natural, more noticeable differences in size and shape can be the source of a lot of self-consciousness. There are different ways that we can address this issue at our cosmetic surgery centers serving Sacramento and San Francisco.
Treatments for Breasts That Are Asymmetrical/Lopsided
When dealing with breasts that are uneven, we tend to opt for either a breast lift surgery or breast implants. Both can help improve the evenness and symmetry of the breasts. The best option for your needs can be determined during the examination and consultation phase of treatment.
Learn More About Cosmetic Plastic Surgery
For more information about how breast enhancement surgery can help you achieve the look that you have always wanted, be sure to contact our plastic surgery centers serving San Francisco today. The entire team looks forward to meeting you in person and helping you achieve all of your aesthetic goals.