Posted August 15, 2015 in Liposuction, Plastic Surgery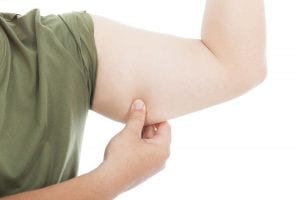 For patients who are struggling with excess fat and hanging skin on the upper arms, arm lift surgery may provide the perfect solution. The upper arms can be a problem area even for many people who are otherwise reasonably fit and healthy. This is a region of the body that is difficult to tone, even through vigorous exercise and diet. Once fat deposits begin to accumulate, they tend to be extremely stubborn.
While arm lift surgery offers many potential benefits, especially when performed by an experienced and skilled plastic surgeon such as Dr. Kimberly Henry, it is also associated with risks and side effects, as with any other surgical procedure. One of these risks, which is unfortunately unavoidable, is post-surgical scarring. While Dr. Henry uses advanced techniques and technologies to minimize visible scarring, it is impossible to perform arm lift surgery without producing any scarring whatsoever. However, for most patients, the improvement in the appearance of the arms more than justifies the scars, which generally fade and become more subtle over time.
Dr. Henry makes certain to discuss such side effects as arm lift scars with patients of her San Francisco plastic surgery practice before they commit to undergoing the procedure. She wants her patients to be able to weigh the risks of arm lift against the benefits so that they can make confident, fully informed decisions about whether to proceed with surgery.
How Dr. Henry Can Limit Arm Lift Scarring
While there may be no way to eliminating scarring from arm lift surgery altogether, Dr. Henry can limit scarring by matching patients with the most conservative approach to arm lift that is most likely to produce the best results in their particular cases. For example:
Patients who are generally fit and trim, but who have small, isolated deposits of fat in their upper arms, may benefit from liposuction. Because liposuction would require no removal of skin, there would be little to no visible scarring. However, the results would be subtle since only fat would be removed. Any hanging skin on the arms would remain.
Patients with some hanging skin on the upper arms may be able to achieve good results through a combination of liposuction and limited incision arm lift surgery. This technique allows for the tightening of skin on the upper arms as well as the removal of fat while producing only minor scarring.
Traditional arm lift surgery is the procedure of choice for patients who require significant removal of fat and excess skin from the upper arms, as well as for patients who have substantial hanging skin remaining after massive weight loss. This technique involves the creation of an incision from the elbow to the underarm, resulting in a long scar. However, the results of the procedure are dramatic and aesthetically impressive.
One thing that patients, and especially those who undergo traditional arm lift surgery, should keep in mind is that scars will fade over time and can usually be concealed quite well with make-up. On the other hand, upper arms with excess fat and hanging skin must be concealed with layers of clothing – and even then can be the source of self-consciousness and discomfort.
Learn More about Arm Lift Scars
To learn more about arm lift scars, please contact our plastic surgery practice today.