Posted May 09, 2013 in Plastic Surgery, Rhinoplasty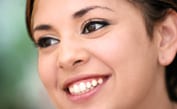 For San Francisco patients who are uncomfortable with the appearance of their noses, rhinoplasty, or cosmetic nose surgery, is an excellent option that can restore confidence and pride in one's appearance. At the San Francisco Plastic Surgery offices of Dr. Kimberly Henry, we educate our patients on all aspects of rhinoplasty, from side effects and recovery to benefits and risks.
Rhinoplasty: The Procedure
San Francisco plastic surgeon Kimberly Henry has performed hundreds of rhinoplasty procedures, enhancing the appearance of patients by sculpting and shaping their noses to a more beautiful shape and boosting their confidence.
Each rhinoplasty is unique, as Dr. Henry expertly shapes the underlying bone, cartilage, and tissues of the nose. Together, Dr. Henry and her patients agree upon the look and shape that suits each patient, a look that she achieves using state-of-the-art medical instruments in our safe, comfortable outpatient office in San Francisco.
Scarring is negligible during rhinoplasty, as Dr. Henry accesses the bone, cartilage, and tissue either inside the nose or where the nostril meets the skin of the face. While under anesthesia, patients may have bone or tissue removed or reshaped, or choose to have an implant inserted to augment part of the nose. Dr. Henry then closes the incisions and recovery begins.
Recovery: Benefits and Side Effects
The physical, mental, and emotional benefits of rhinoplasty are many. San Francisco rhinoplasty patients describe feelings of increased confidence and pride in their appearance, which often translates into increased happiness in many aspects of a patient's life. A rhinoplasty alone can drastically change a patient's appearance for the better, creating a balance and symmetry to the face.
Recovery from rhinoplasty includes several days of downtime immediately following surgery, in which patients should avoid physical exertion of any kind. The nose is delicate post-surgery during this time and must naturally heal. Patients are given a splint that will protect the nose while it heals, and should allow themselves at least 10 days before returning to work, especially any job that is labor intensive.
Typical side effects of rhinoplasty, most of which last a few days or weeks, include:
Swelling on and around the nose
Bruising on and around the nose
Soreness on and around the nose
Numbness on and around the nose
Risks and side effects of rhinoplasty, which are uncommon but should be considered as in every plastic surgery procedure, include:
Scarring at the base of the nose
Permanent nerve damage
Under- or over-correction of the nose that may result in further surgery
Hematoma, in which blood accumulates under the skin
Recurring nose bleeds
At the plastic surgery offices of Dr. Henry, we consider your confidence the best side effect of rhinoplasty, and we are focused on making this and each of the procedures we offer as comfortable and painless as possible for you. For an informative consultation at our practice, contact us today.